SANTANA SHANGO
1982
01. The Nile (4:54) (Rolie/Ligertwood/Santana)
02. Hold On (4:21) (Ian Thomas)
03. Night Hunting Time (4:42) (Paul Brady)
04. Nowhere To Run (4:04) (Russ Ballard)
05. Nueva York (4:59) (Peraza/Ballard/Lear/Ligertwood/Margen/Rekow/Vilato/Santana)
06. Oxun (Oshun) (4:12) (Peraza/Rolie/Lear/Ligertwood/Rekow/Vilato/Santana)
07. Body Surfing (4:24) (Ligertwood/Santana)
08. What Does It Take (To Win Your Love) (3:24) (Bristol/Bullock/Fuqua)
09. Let Me Inside (3:30) (Santana/Solberg)
10. Warrior (4:21) (Ballard/Ligertwood/Margen/Santana)
11. Shango (1:40) (Peraza/Rekow/Vilato)

Total playing time: 44:31

Carlos Santana: Guitar, Vocals
Armando Peraza: Bongos, Conga, Vocals
Gregg Rolie: Organ, Keyboards, Vocals
Richard Baker: Keyboards
Graham Lear: Drums
Alex Ligertwood: Rhythm Guitar, Vocals
David Margen: Bass
Raul Rekow: Conga, Vocals
Orestes Vilato: Percussion, Timbales, Vocals

Produced by Bill Szymczyk, John Ryan, Carlos Santana & Gregg Rolie
Arranged by Gregg Rolie, John Ryan, Bill Szymczyk
Engineered by Jim Gaines, Bill Szymczyk, Ben King, Will Herold
Mixed by Bill Szymczyk
Assistant Engineer: Maureen Droney
Mastered by Ted Jensen

Director: Guido Harari
Art direction & design: Richard Stutting
Photo: Guido Harari

(P) © 1982 CBS Inc. (Columbia)
Sony Music Entertainment Inc.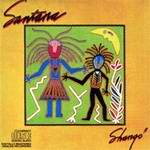 Lyrics