SANTANA CARAVANSERAI
1972
01. Eternal Caravan Of Reincarnation (4:31) (M.Shrieve/T.Rutley/N.Schon)
02. Waves Within (3:53) (G.Rolie/C.Santana/D.Rauch)
03. Look Up (To See What's Coming Down) (2:56) (D.Rauch/G.Rolie/C.Santana)
04. Just In Time To See The Sun (2:12) (M.Shrieve/C.Santana/G.Rolie)
05. Song Of The Wind (6:08) (G.Rolie/N.Schon/C.Santana)
06. All The Love Of The Universe (7:38) (C.Santana/N.Schon)
07. Future Primitive (4:13) (J.Areas/J.M.Lewis)
08. Stone Flower (6:12) (M.Shrieve/C.Santana/Antonio Carlos Jobim)
09. La Fuente Del Ritmo (4:33) (J.M.Lewis)
10. Every Step Of The Way (4:13) (M.Shrieve)

Total playing time: 51:22

Carlos Santana: Lead Guitar, Percussion, Vocal
Gregg Rolie: Organ, Piano
Jose 'Chepito' Areas: Timbales, Congas, Bongos
Mike Shrieve: Drums
James Mingo Lewis: Congas, Percussion, Vocal, Bongos, Acoustic Piano
Douglas Rauch: Bass, Guitar
Tom Rutley: Acoustic Bass
Neal Schon: Guitar

with:
Hadley Caliman: Sax intro (1)
Tom Coster: Electric Piano (9)
Wendy Haas: Piano
Tom Harrel: Orchestral Arrangement (10)
Armando Peraza: Percussion, Bongos
Rico Reyes: Vocal
Douglas Rodriguez: Guitar (2)
Lenny White: Castanets (6)

Produced by Carlos Santana & Mike Shrieve
Engineered by Glen Kolotkin & Mike Larner
Album art by Joan Chase

(P) © 1972 CBS Inc. (Columbia)
Sony Music Entertainment Inc.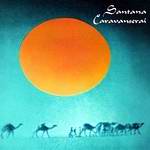 Lyrics