SANTANA BEYOND APPEARANCES
1985
01. Breaking Out (4:28) (Sancious/Walker/Johnson/Ligertwood)
02. Written In Sand (3:45) (Mitchell Froom/Jerry Stahl)
03. Brotherhood (2:24) (Sancious/Thompson/Santana)
04. Spirit (5:03) (Walker/Johnson/Ligertwood/Rekow/Vilato/Santana)
05. Right Now (6:00) (Thompson/Walker/Ligertwood/Vilato/Santana)
06. Who Loves You (4:05) (Thompson/Vilato/Santana)
07. I'm The One Who Loves You (3:15) (Curtis Mayfield)
08. Say It Again (3:25) (Val Garay/Steve Goldstein/Anthony La Peau)
09. Two Points Of View (4:56) (Thompson/Walker/Ligertwood/Santana)
10. How Long (3:57) (Robbie Patton)
11. Touchdown Raiders (3:05) (Santana)

Total playing time: 44:29

Carlos Santana: Guitar, 12 String Guitar
Alphonso Johnson: Bass
Chester D. Thompson: Keyboards, Synthesizers
David Sancious: Keyboards, Synthesizers, Rhythm Guitar
Chester Cortez Thompson: Drums
Greg Walker: Vocals, Background Vocals
with:
Armando Peraza: Percussion, Bongos, Vocals
David Adelstein: Synthesizer, Drums
Mitchell Froom: Synthesizer
Bryan Garofalo: Bass
F. Bob Getter: Bass
Steve Goldstein: Synthesizer, Keyboards
Craig Hull: Guitar
Craig Krampf: Drums
Anthony Lapeau: Vocals, Background Vocals
Alex Ligertwood: Rhythm Guitar, Vocals
Raul Rekow: Percussion, Chekere
Orestes Vilato: Percussion, Bells, Tympani
John Woodhead: Guitar

Produced by Val Garay
Engineered by Richard Bosworth

(P) © 1985 CBS Inc. (Columbia)
Sony Music Entertainment Inc.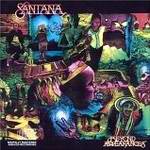 Lyrics