JETHRO TULL THICK AS A BRICK
1972
01. Thick As A Brick (22:40)
02. Thick As A Brick (21:10)

Total playing time: 43:52

Ian Anderson: Lead Vocals, Flute, Acoustic Guitar, Violin, Saxophone, Trumpet
Martin Barre: Electric Guitar, Lute
John Evan: Organ, Piano, Harpsichord
Jeffrey Hammond-Hammond: Bass, Spoken Words
Barriemore Barlow: Drums, Timpani, Percussion

Written by Ian Anderson & Gerald Bostock
Published by Ian Anderson Music Ltd./Chrysalis Music Ltd.
Produced by Ian Anderson & Terry Ellis
Arranged & performed by Jethro Tull
Engineered by Robin Black
Album design & artwork by CCS
_______________________

The 25th anniversary re-mastered CD (Chrysalis, 1997) includes bonus tracks:

03. Thick As A Brick (11:50) (Live at Madison Square Garden 1978)
04. Interview with Ian Anderson, Martin Barre & Jeffrey Hammond (16:30)

Total playing time: 72:10
_______________________


(P) & © 1972 Chrysalis Records Ltd.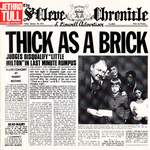 Lyrics