JETHRO TULL STAND UP
1969
01. A New Day Yesterday (4:11)
02. Jeffrey Goes To Leicester Square (2:12)
03. Bourée (3:47)
04. Back To The Family (3:52)
05. Look Into The Sun (4:23)
06. Nothing Is Easy (4:26)
07. Fat Man (2:52)
08. We Used To Know (4:03)
09. Reasons For Waiting (4:07)
10. For A Thousand Mothers (4:21)

Total playing time: 37:58

Bonus tracks on remastered CD (2001):

11. Living In The Past (3:23)
12. Driving Song (2:44)
13. Sweet Dream (4:05)
14. 17 (3:07)

Total playing time: 51:39

All tracks by Anderson except 'Bouree' by Johann Sebastian Bach, arranged by Anderson

Ian Anderson: Flute, Acoustic Guitar, Hammond Organ, Piano, Mandolin, Balalaika, Mouth Organ, Vocals
Glenn Cornick: Bass Guitar
Clive Bunker: Drums & all manner of Percussion
Martin Lancelot Barre: Electric Guitar, Flute on tracks 2 & 9

Strings on 'Reasons For Waiting' arranged & conducted by David Palmer

Produced by Terry Ellis & Ian Anderson for Chrysalis Productions
Recorded in Morgan Studio with engineer Andy Johns
Cover based on ideas from Terry Ellis & John Williams &
printed from woodcuts by New York graphic arrist, Jimmy Grashow

2001 Remaster:
re-issue co-ordination: Jo Brooks & Nigel Reeves
Artwork designed by The Red Room @ EMI

Remaster's sleevenotes:

Following the blues-based first Tull album, 'This Was' in 1968, the varied influences of my youth & teenage years came to the fore in 'Stand Up'. Elements of Jazz, Blues, Classical, Folk & Ethnic music forms had been bubbling up in my music writing since the summer of '68 when Tull had begun to achieve popularity on a meaningful scale. The release & polite commercial success of 'This Was' spurred me on to work on the more diverse forms on which I was passionately interested.
Martin Barre had replaced former guitarist Mick Abrahams with whom some of my new songs didn't really click, & quickly got down to the task of developing his less restricted guitar style to complement the varied musical notions which we recorded in the early months of '69. Still one of my all-time favorite Tull albums, 'Stand Up' has come to represent, for me anyway, the early fruition of my musical ambitions & provides many great live performance songs & tunes in our concert set today.
Clive & Glenn were sympathetic to the change in our musical style & together with the new & slightly nervous Martin, created the studio ambience that shaped these enjoyable recording sessions.
Having fallen from favour at John Peel's BBC Radio show, we were worried that our fortunes might rapidly diminish, especially in the light of our lengthy visits to the USA in Spring & Summer '69, but it was Joe Cocker, over breakfast in Loews Midtown Manhattan Hotel coffee shop who informed me that 'Stand Up' had immediately gone in to the charts an No.1 back home in the UK.
This was a great start to our careers in the USA & Reprise/Warner Bros. began to take us seriously as new contenders for the US charts.
Led Zeppelin kindly invited us to open for them on their first arena tour later that year & the 'Stand Up' material was given a good workout to thousands of potential fans across the states. We supported the MC5, Blood Sweat & Tears, Grand Funk Railroad & many other innovative & exciting acts that year, but it was the Zeps who showed us the way & so to them I really must dedicate this remastered 'Stand Up', complete with the addition of some of the other songs which were recorded around the same time.
The perennial 'Living In The Past' was recorded, part in NY & finished in LA, as the result of our manager Terry Ellis urging me to come up with a hit single for the UK during ours absence in the USA that summer.
Of course, I didn't really expect the song to be a hit since it was in an odd time signature (5/4) but somehow it caught the fancy of the UK audience & the BBC, so our survival in the UK was assured for a while at least.
'Driving Song' was recorded in LA during a tour. '17' & 'Sweet Dream' were taped at Morgan Studios, North London, where we throughout the seventies.
The woodcut design of the cover was the inspiration of Terry Ellis, our manager, & the original pop-up interior made for a lot of interest. A bit expensive to make as a record cover these days however.
Oh, well….I suppose you can't have everything…..

IA, August 2001

(P) © 1969 Chrysalis Records Ltd.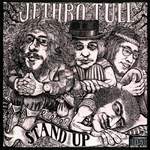 Lyrics