JETHRO TULL A PASSION PLAY
1973
01. A Passion Play (21:36)
02. A Passion Play (23:32)
(including 'The Story Of The Hare Who Lost His Spectacles')

Total playing time: 45:08

Ian Anderson: Vocals, Acoustic Guitars, Flute, Soprano & Sopranino Saxophones
Martin Barre: Electric Guitars
John Evan: Piano, Organ, Synthesizer, Speech
Jeffrey Hammond-Hammond: Bass, Guitar, Vocals
Barriemore Barlow: Drums, Timpani, Glockenspiel & Marimba

Music & lyrics by Ian Anderson except 'The Story Of The Hare Who Lost His Spectacles' Hammond-Hammond/Evans/Anderson

Produced & arranged by Jethro Tull
Engineered by Robin Black
Cover design by CCS
Photography by Brian Ward

The 2003 remastered Enhanced CD includes the video 'The Story Of The Hare Who Lost His Spectacles' & the theatre programme

Remaster's sleevenotes:

Following hot on the progressive little heels of 'Thick As A Brick', Tull decamped to Montreux, Switzerland to develop song ideas for a new & similarly up-beat concept album. TAAB had, of course, been a spoof on the concept album genre & we were to follow it up with another slightly jokey set of material with a few more musically serious passages thrown in for good measure.
The recording sessions were undertaken in the 'Funky Chateau' D'Herouville near Paris. Unfortunately for us, the technical excellence of records by Elton John & Cat Stevens was not to be replicated during our visit.
Endless recording equipment problems & minor bouts of food poisoning dogged our attempts to produce masters. Finally, with only a few relatively unusable sections of the album complete - or nearly so - we gave up our recently won Swiss residence status & fled home to the welcoming embrace of the British tax man.
Rather than re-record or polish up the existing material, we elected to start again with a completely new album & the disruptive recent events gave rise to an altogether darker set of tunes on the soon-to-be-named 'A Passion Play'. Following the theme of post-death meanderings in another world, the record was debuted with concert tours in the UK & USA.
Veteran features writer Chris Welch of Melody Maker & long-time friend of the band, used the moment to avoid professional charges of being altogether too chummy with the likes of us & so, savaged the performance of a work he clearly didn't like too much anyway. 'Play Without Passion' hollered the front page story as it echoed its way around the known universe. One or two eminent US critics followed the example & we were on the back foot for the first time in our musical lives.
Of course, Chris later declared that he 'might have over-reacted a bit' but the damage was done. A naughty deal was cut by manager Terry Ellis with 'Uncle' Ray Coleman, editor of Melody Maker, to trade the scoop on a 'Tull Quit' story in return for another front page in MM the next week. I wish Terry had remembered to tell us first! We were left feeling & looking pretty stupid having apparently resigned in a fit of pique whereas, in reality, there had never been a moment of such thought as far as the band were concerned. We rather liked our new record & thoroughly enjoyed performing it live in concert.
Here then is the re-mastered end result which courted such controversy. Not the most accessible of Tull albums, for sure, but a slightly weird & instrumentally adventurous concoction which set a few young progressive-rock wannabes on their way to eventual musical success. Even now, I hear tales of the impression made on young minds by 'A Passion Play', both then & now, & the badge of honour worn today by the hard line Tull fan who knows everything, is to claim to have listened all the way through, twice.
Doubtless, the bad press rap did us the power of good in providing a natural check in the band's career development & redirecting us in the context of more conventional songwriting. Later long song structure writing as in 'Baker St. Muse', 'Budapest' or the Ian Anderson solo 'Divinities', benefited from the lessons learned. So, to old pal Chris Welch, I dedicate this new sonically improved edition of the infamous PP & trust he will give it another spin for old time's sake.

Ian Anderson, 2003

(P) © 1973 Chrysalis Records Ltd.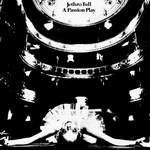 Lyrics