JETHRO TULL MINSTREL IN THE GALLERY
1975
01. Minstrel In The Gallery (8:13)
02. Cold Wind To Valhalla (4:19)
03. Black Satin Dancer (6:52)
04. Requiem (3:45)
05. One White Duck/ 010 = Nothing At All (4:37)
06. Baker St. Muse including: (16:39)
Pig-Me And The Whore/ Nice Little Tune
Crash-Barrier Waltzer/ Mother England Reverie
07. Grace (0:50)

Total playing time: 45:16

Bonus tracks on remastered CD (2002):

08. Summerday Sands (3:44)
09. March The Mad Scientist (1:48)
10. Pan Dance (3:25)
11. Minstrel In The Gallery (2:11) (live)
12. Cold Wind To Valhalla (1:30) (live)

Total time incl. bonus: 58:00

All songs written by Ian Anderson

Ian Anderson: Vocals, Acoustic Guitar & Flute
Martin Barre: Electric Guitars
John Evan: Piano, Organ
Jeffrey Hammond-Hammond: Bass Guitar & String Bass
Barriemore Barlow: Drums & Percussion

with:
Patrick Halling: Violin (leader)
Elizabeth Edwards: Violin
Rita Eddowes: Violin
Bridget Procter: Violin
Katharine Thulborn: Cello
David Palmer: Keyboards, Saxophone, Synthesizer, Orchestra Conductor

Arrangements for ochestra written by David Palmer

Produced by Ian Anderson for Five Star Records Ltd.
Recorded & mixed somewhere in Europe by the Maison Rouge mobile studio
Engineered by Robin Black
Front cover artwork by R. Kriss/J. Garnett based on a print by Joseph Nash

(P) © 1975 Chrysalis Records Ltd.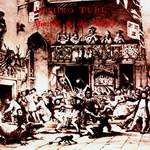 Lyrics