HAWKLORDS 25 YEARS ON
1978
01. Psi Power (6:06) (Calvert/Brock)
02. Free Fall (5:14) (Calvert/Bainbridge)
03. Autumoton (1:12) (Calvert/Brock)
04. 25 Years (4:31) (Brock)
05. Flying Doctor (5:41) (Calvert/Brock)
06. The Only Ones (4:12) (Calvert/Brock)
07. (Only) The Dead Dreams Of A Cold War Kid (3:50) (Calvert)
08. The Age Of The Micro Man (3:30) (Calvert/Brock)

Total playing time: 34:19

Bob Calvert: Vocals, Wobbleboard, Didgereedoo, Jaw Harp, Guitar, Percussion
Dave Brock: Vocals, Guitar, Keyboards, Bass
Harvey Bainbridge: Bass, Vocals
Steve Swindells: Keyboards, Vocals
Martin Griffin: Drums (1,2,5,6)
Simon King: Drums (4,6–8)
Simon House: Violin (6-8)
Henry Lowther: Guest Trumpet
Les McClure: Guest Vocals

Produced by Robert Calvert & Dave Brock
Engineered by Dennis Smith, Neil Fawcus & Neil Mount
Recorded at Langley Farm, Devon & Mixed at Wessex Studios – Jun-Aug'78
Mixed at Wessex Studios, London
Engineered by Tim Friese-Greene & Mike Shipley

Sleeve by Barney Bubbles & Brian Griffith

(P) © 1978 Charisma Records Ltd.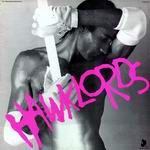 Lyrics