SUPERTRAMP SOME THINGS NEVER CHANGE
1997
01. It's A Hard World (9:46)
02. You Win, I Lose (4:31)
03. Get Your Act Together (4:48)
04. Live To Love You (5:18)
05. Some Things Never Change (6:26)
06. Listen To Me Please (4:46)
07. Sooner Or Later (6:50)
08. Help Me Down That Road (4:36)
09. And The Light (4:40)
10. C'est What? (8:16)
11. Where There's A Will (5:36)

Total playing time: 65:33

Note: some releases (Chrysalis/EMI) contain extra track 'Give Me A Chance':

All tracks by Rick Davies except 7 by Rick Davies/Mark Hart

Rick Davies: Keyboards, Vocals
John Helliwell: Saxophone, Woodwinds
Bob Siebenberg: Drums
Mark Hart: Guitar, Keyboards, Vocals
Cliff Hugo: Bass
Karen Lawrence: Background Vocals
Lee Thornburg: Trombone, Trumpet, Background Vocals
Carl Verheyen: Guitar
Tom Walsh: Drums, Percussion

with:
Bob Danziger: Kalimbas
Karen Lawrence: Back Vocals
Kim Nail: Back Vocals

Produced by Jack Douglas & Fred Mandel
Executive producer: Rick Davies
Creative director: Richard Frankel
Engineered by Jay Messina & Ian Gardiner
Assistant engineer: Mike Scotella
Mixing: Roy Clark, Brian Hargrove
Mastered by Bob Ludwig
Cover art by Dimo Safari
Portraits by Dennis Keeley

(P) © 1997 Rick Davis Productions, Inc./EMI Records Ltd.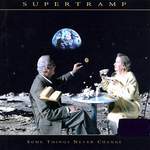 Lyrics