STEVE HACKETT PLEASE DON'T TOUCH
1978
01. Narnia (4:05)
02. Carry On Up The Vicarage (3:10)
03. Racing In A (5:06)
04. Kim (2:13)
05. How Can I? (4:38)
06. Hoping Love Will Last (4:22)
07. Land Of A Thousand Autumns (1:37)
08. Please Don't Touch (3:38)
09. Voice Of Necam (3:10)
10. Icarus Ascending (6:27)

Total playing time: 38:34

Bonus tracks (2005 remaster):

11. Narnia (3:36) (John Perry vocal)
12. Land Of 1000 Autumns/Please Donít Touch (7:52) (live)
13. Narnia (4:30) (alternate version)

Total playing time: 54:30

All songs composed & arranged by Steve Hackett

Steve Hackett: Acoustic & Electronic Guitars, Percussion, Keyboards, Vocals
Richie Havens: Percussion, Vocals
Randy Crawford: Vocals
Chester Thompson: Drums, Percussion
Steve Walsh: Vocals
Tom Fowler: Bass
John Acock: Keyboards
James Bradley, Jr.: Percussion
Phil Ehart: Percussion, Drums
Feydor: Vocals
John Hackett: Flute, Keyboards, Piccolo, Bass Pedals
Dave Lebolt: Keyboards
Hugh Malloy: Cello
Graham Smith: Violin

Produced by Steve Hackett & John Acock
Engineered by John Acock

Cover illustration: Kim Poor
Cover photography: John Brown
Inside sleeve photo: Armando Gallo

(P) © 1978 Charisma Records Ltd.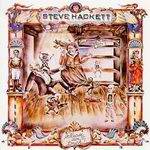 Lyrics