STEVE HACKETT DARKTOWN
1999
01. Omega Metallicus (3:48)
02. Darktown (4:59)
03. Man Overboard (4:17)
04. The Golden Age Of Steam (4:09)
05. Days Of Long Ago (3:23)
06. Dreaming With Open Eyes (6:54)
07. Twice Around The Sun (7:15)
08. Rise Again (4:26)
09. Jane Austen's Door (6:13)
10. Darktown Riot (3:10)
11. In Memoriam (8:05)

Total playing time: 56:37

Bonus tracks (2004 edition):

12. The Welt At The World's End (3:48)
13. Comin' Home To The Blues (6:12)

Overall playing time: 66:44

All tracks by Steve Hackett except 5 by S.Hackett & Jim Diamond
1. Omega Metallicus
Recorded & mixed by Roger King
Bass: Sir Douglas Sinclair (Twice Removed)
Rhythm Design: Roger King
Loops Courtesy of Beats'n'The Hood
Guitar Handler: Steve Hackett
Guitar Trainers: Roger King & Ben Fenner

Omega Metallicus is of course old Etruscan for 'Letís Party' a tune for all bass instincts! Although guitars were stretched & frets were rattled, no instruments were injured during this recording. Experiments on live guitars were carried out in the most humane conditions imaginable.

A big thank you to Fernandes for finally making my dreams come true, If there is a God of sustain, you are it!

2. Darktown
Recorded & mixed by Roger King
Sax: Ian McDonald
Keys: Julian Colbeck & Roger King
Lacerated guitar, ambient harmonica & narration: Steve Hackett
Bass extractions: Roger King

This fondly remembers the abuse of power masquerading as education. Congratulations to all who have observed & survived this phenomenon in our Great British schools - 'The best years of your life' - which is why half of you are in therapy right now & the other half are probably too drunk to feel the pain anymore. (Wonderful sax from Ian by the way on a very pretty tune, donít you think?)

3. Man Overboard
Recorded by Richard Buckland, Ben Fenner & Roger King
Mixed by Ben Fenner & Roger King
Seascape: Steve Hackett, Richard Buckland, Ben Fenner & Roger King
The Siedlaczek choir, Davy Jones Locker guitar, thumb piano, rainstick, 12 string, harmonica & orchestral simulation: Steve Hackett

If you havenít got time to go on holiday, perhaps this track might convey the feeling of 'slowing down in the sun' Bermuda style, which is where I wrote this many years ago. The song popped into my head while sitting on a rock overlooking Jobson's Cove & watching a sunset work its magic while Kim searched for parrot fish in the salt water below. A parrot fish lookslike a swimming rainbow by the way.

4. The Golden Age of Steam
Recorded by Ben Fenner, Jerry Peal & Roger King
Mixed by Jerry Peal & Steve Hackett
Post production: Roger King
Drumming & flageolet: Roger King
Marcato string arrangement & design: Ben Fenner
Woodwind modelled by Steve Hackett, Jerry Peal & Roger King
Childrenís choir designed by Ben Fenner
End Choir: Steve Hackett, Mae & Jamie McKenna
Additional vocals: Steve Hackett
Normandy Beach Landing, commentary voice unknown but genuine
Bells by Jerry Peal
Additional strings by Jerry Peal & Steve Hackett

A strange track (partly dreamt) influenced by the book 'The Diary Of Anne Frank'... I remembered being told that children made the best spies in World War Two ... What if a child had been responsible for her familyís discovery? The song follows an imaginary characterís development from child, to spy & to monster - a story of opportunism at its worst.

5. Days Of Long Ago
Recorded & mixed by Billy Budis
Post production Ben Fenner & Roger King
Written by Steve Hackett & Jim Diamond
Vocals: Jim Diamond
Guitars: Steve Hackett
Violins shaped by Steve Hackett
Cello line: Billy Budis

A wistful love song featuring Jim Diamond as the one & only special guest vocalist on this album. The melody seemed to write itself as Jim & I sat down after a walk in the park. It served to calm us both after the hectic business of living was put to one side. The following day Jim arrived with a complete set of lyrics &, as I recall, we recorded it right then & there or was it there & then? Those of you unfamiliar with Jim Diamondís voice will of course please note that his unique sound shines indeed like a diamond & is also as clear as a bell - a true original. Why do all the great singers come from Scotland?

6. Dreaming With Open Eyes
Recorded & mixed by Jerry Peal
Rhythm shaped from slapped & slowed nylon guitar by Steve Hackett
Voice, guitar & vibrator through pickups: Steve Hackett
Flute & pan pipe: John Hackett
The rest by Jerry Peal including bass, strings & keys:
Windscreen wipers Jerryís Citroen (heavy tension) Steveís BMW (extra slack gauge)

A car journey, this time put to music - a serendipity of daydreams & night dreams. The mind wanders off & youíre in two places at once -the rain beats down & you feel protected in your bubble ... Dadís old Standard Vanguard is brought to mind, shaped like the Batmobile, painted battleship grey & roaring like a lion. Lots of happy memories listening to Jim Reeves, The Everlys, Dylan & Duane Eddy. 'My baby goes to the movies, nobody looks at the screen '... & the beat goes on with its irrevocable exhortion towards movement in the young. Where will it end?

7. Twice Around The Sun
Recorded by Ben Fenner, Jerry Peal & Roger King
Mixed by Roger King
Fretless Bass: Sir Douglas Sinclair
Rhythm design: Roger King
Slap Echo guitar: Steve Hackett
Mellotron Mk 2 specimens carefully preserved enhanced & finally played by Ben Fenner
DX7 & organ particles also by Dr. Fenner

An instrumental track which both pounds & occasionally floats, notable for possibly the longest sustained guitar note in the history of modern recording to date - played with my favourite 'Golden' tone

8. Rise Again
Recorded by Richard Buckland & Ben Fenner
Mixed by Ben Fenner
Drums: Hugo Degenhardt
Drum post production by Aron Friedman & Ben Fenner
Bass guitar: Billy Budis
Vocals & Gibson Goldtop guitar: Steve Hackett
Piano & keyboards: Aron Friedman

Reincarnation & survival - pet themes of mine - consciousness exists outside the body - youíll see itís so-called 'Reality' thatís the big hoax...

9. Jane Austenís Door
Recorded & mixed by Roger King
Rhythm design, keyboards & bass by Roger King
Les Paul Goldtop Guitars & vocals: Steve Hackett

A song about wishing someone the best - shine on wherever & what-ever you choose ...

10. Darktown Riot
Recorded & mixed by Roger King
Rhythm design by: Roger King/Beats 'n' The Hood
Talking guitar, Fernandes Sustainer & droning voice by Steve Hackett
Mellotron plundering, marcato string stealing & choir hijacking by Roger King

If you push people, including children, far enough they will retaliate - here endeth the lesson!

11. In Memoriam
Recorded & mixed by Roger King
Bass samples courtesy of John Wetton
Bugle guitar, jazz tone guitar, nylon guitar & vocals Steve Hackett
Siedlaczek choir conducted & uncorrupted by Monseigneur: Roger King
Virtual drums: Roger King
Voiceover: Steve Hackett
Strings, choir & mellotron modelled by Sir Roger of the Kings

I might be saying too much here, but I believe alienation strikes even the most communicative of us all from time to time, and we are bound to ask what could we even-tually do without? The paraphernalia of living ... Like a theatre stripped of its props ... or a drawing almost completely erased ... Emotionally gutted as we all must become as the forms we hold dear slowly crumble about us. Yet the spirit lives on ... Even the lowliest of us are worth something from the 'use-less' butterfly to the 'grubbiest' slug. In other words an idea of God as the sum of all experience ... A party to which everybody is invited.

12. The Welt At The World's End
Keyboards, percussion, bass & programming: Ben Fenner
Guitar & chimes: Steve Hackett

An influence of Peter Green & latin rhythms & an excuse for those notes that seem to go on forever.

13. Comin' Home To The Blues
Virtual bass & drums, piano, programs & effecrs: Roger King
Harmonica, Guitar, Vocal & Percussion: Steve Hackett

An invocation of the blues spirit, the Gods of the harmonica - Sonny Boy Williamson, Boy Butterfield... memories' of Eel Pie Island ... in blues Heaven ... I'm coming home to pay my respects boys.
Lyrics were written with school friend Gordon 'Jock' Greenway, who introduced me to Clapton's work via early John Mayall.
As far as the theories go, the Blues as a form is a variation on one song ... the theme is always love ... 'Lost & Found' , 'Found & Lost' ... 'The Blues Lives On...' . Howlin' Wolf ... I know you're out there wailing somewhere. A humble white boy's effort to express thanks to the greats who inspired so many ... did I leave out Muddy Waters ... Little Wander Jacobs ... Freddy King ... Albert King ... Ray Charles ... Champion Jack Dupree ... Mr Hendrix? No matter what, I always keep that flame burning ... the blues will never die.
Produced by Steve Hackett
Mastered by Ben Fenner
Portrait: Paul Cox
Design & photo: Harry Pearce
Management: Billy Budis for Kudos Management

More revealing than ever before & even more autobiographical, DARK TOWN is as personal a Hackett album as you're likely to see. The usual impossibly big & haunting sounds are occasionally twinned with Ian McDonald's searing, angst-ridden sax or Jim Diamond's soulful vocal. This is a record from someone who has lived & needs to tell you what he's discovered - a nightmare theme park of an album.

(P) © 1999 Camino Records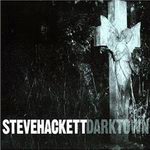 Lyrics