STEVE HACKETT CURED
1981
01. Hope I Don't Wake (3:47)
02. Picture Postcard (3:54)
03. Can't Let Go (5:42)
04. The Air-Conditioned Nightmare (4:42)
05. Funny Feeling (4:06)
06. A Cradle Of Swans (2:49)
07. Overnight Sleeper (4:37)
08. Turn Back Time (4:23)

Total playing time: 33:55

Bonus tracks (2007 remaster):

09. Tales Of The Riverbank (2:00) (b-side)
10. Second Chance (2:00) (b-side)
11. The Air-Conditioned Nightmare (4:08) (live at The Reading Festival)

Total playing time: 42:12

All tracks by Hackett except 4 by Hackett/Magnus & 7 by Hackett/K.Poor

Steve Hackett: Guitars, Bass, Vocals
Nick Magnus: Keyboards, Drum Machine

with:
Bimbo Acock: Sax on 2
John Hackett: Flute on 7, Bass Pedals on 4
Kim Poor: Vocals

Steve Hackett's equipment:
Les Paul, Stratoscaster, Ovation Nylon, Yairi Nylon, Ovation UK2, Cimar, Roland GR500 Guitar Synth, Fender Precision Special Bass, E-Bow, Pete Cornish Pedal Board

Nick Magnus' equipment:
Prophet 5, Mini Moog, Clavinet, RMI Piano, Roland Vocoder Plus, Korg CX3, Novatron, Fender Rhodes, Vox String-thing, Acoustic Piano, Linn Drum Computer, SDS5 Drum Synth, Cymbals, Claptrap

Produced by Steve Hackett, John Acock & Nick Magnus
Recorded at Redan Studios
Engineer: John Acock
Assistant engineer: Johnnie Schinas
Mastered at Utopia by Kevin Metcalfe
Road crew: Jed & Vince
Special thanks to: John Ager & Liz Bindon
Cover photos: Kim Poor
Design: Bryan Hemming & Kim Poor
Inner photo: Amando Gallo

This album is dedicated to Kim with all my Love & Affection.

(P) © 1981 Charisma Records Ltd.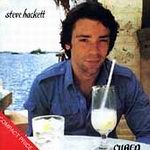 Lyrics