ROXY MUSIC live VIVA! ROXY MUSIC
1976
01. Out Of The Blue (4:44)
02. Pyjamarama (3:36)
03. Bogus Man (7:05)
04. Chance Meeting (2:58)
05. Both Ends Burning (4:47)
06. If There Is Something (10:37)
07. In Every Dream Home A Heartache (8:24)
08. Do The Strand (4:01)

Total playing time: 46:15

Bryan Ferry: Voice, Keyboards
Andy Mackay: Oboe, Sax
Phil Manzanera: Guitar
Paul Thompson: Drums
Edwin Jobson: Strings, Synthesizers, Keyboards
with:
John Gustafson: Bass
Sal Maida: Bass
John Wetton: Bass
Rick Wills: Bass
The Sirens: Backing Vocals

Produced by Chris Thomas
Recorded in the UK, Nov'73, Nov'74 & Oct'75

Engineers: John Punter, Bill Price, Rhett Davies, Frank Owen, Chris Michie
Remix engineers: Steve Nye, Jon Walls
Mixed at Air Studios
Cover concept: Bryan Ferry
Crew: Chris Adamson, Mick Rossi

Remastered by Bob C. Ludwig at Gateway Studios, Portland, Maine [1999 edition]

(P) © 1976 E.G. Records Ltd.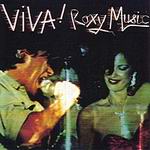 Lyrics