BRYAN FERRY LET'S STICK TOGETHER
1976
01. Let's Stick Together (2:59) (Harrison)
02. Casanova (2:46) (Ferry) [re-recording]
03. Sea Breezes (6:11) (Ferry)
04. Shame, Shame, Shame (3:16) (Reed)
05. 2 HB (3:14) (Ferry)
06. The Price Of Love (3:28) (Don & Phil Everly)
07. Chance Meeting (3:15) (Ferry)
08. It's Only Love (3:49) (Lennon/McCartney)
09. You Go To My Head (2:42) (Gillespie/Coots)
10. Re-Make, Re-Model (2:43) (Ferry) [1975 re-recording]
11. Heart On My Sleeve (3:28) (Gallaher/Lyle)

Total playing time: 37:57

Bryan Ferry: Voice, Keyboards, Harmonica
Chris Spedding: Guitar
Paul Thompson: Drums
John Wetton: Bass
Chris Mercer: Saxophone
Mel Collins: Saxophone
Martin Drover: Trumpet
Eddie Jobson: Violin, Synthesizer
Morris Pert: Percussion
John Gustafson: Bass [10]
Rick Wills: Bass [3]
John Porter: Bass [5]
Ann O'Dell: String Arrangements [4]
Phil Manzanera: Guitar [10]
David O'List: Guitar [7]
Neil Hubbard: Guitar [2]
Jacqui Sullivan: Chorus
Doreen Chanter: Chorus
Vicki Brown: Chorus
Martha Walker: Chorus

Recorded at Air Studios & Island Studios, London, 1973-76
Produced by Bryan Ferry, Chris Thomas
Engineered by John Punter, Steve Nye
Assisted by Nigel Walker, Jon Walls
Remastered by Bob C. Ludwig at Gateway Studios, Portland [1999]
Photo: Richard Wallis

(P) © 1976 E.G. Records Ltd.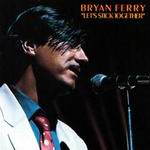 Lyrics