BRYAN FERRY IN YOUR MIND
1977
01. This Is Tomorrow (3:40)
02. All Night Operator (3:10)
03. One Kiss (3:36)
04. Love Me Madly Again (7:27)
05. Tokyo Joe (3:56)
06. Party Doll (4:31)
07. Rock Of Ages (4:29)
08. In Your Mind (5:18)

Total playing time: 36:12

All tracks by Bryan Ferry except 7 Ferry/Thomas

Bryan Ferry: Harmonica, Piano, Keyboards, Vocals
Phil Manzanera: Guitar
John Wetton: Bass, Violin, Vocals
Chris Spedding: Guitar
Ann Odell: String Arrangements
Dyan Birch: Vocals
Doreen Chanter: Vocals
Helen Chappelle: Vocals
Frank Collins: Vocals
Mel Collins: Flute, Horn, Saxophone, Horn Arrangements
Ray Cooper: Percussion
Neil Hubbard: Guitar
John Porter: Bass
Dave Skinner: Piano
Martin Drover: Horn
Paddy McHugh: Vocals
Chris Mercer: Horn, Saxophone, Horn Arrangements
Jacquie Sullivan: Vocals
Paul Thompson: Drums
Preston Hayward: Pecussion
Morris Pert: Pecussion

Produced by Bryan Ferry & Steve Nye
Engineered by Steve Nye, Ross Cullum, Nigel Walker
Recorded at Air Studios, London, 1976-77

Mixed by Bob Clearmountain
Remastered by Bob Ludwig
Artwork by Bob Bowkett at C.C.S.
Photo: Monty Coles
Cover designed by Nicholas De Ville

Thanks to John Punter, Chris Thomas, Geoff Haslam, Bill Price

(P) © 1977 E.G. Records Ltd.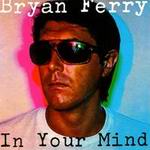 Lyrics