BRYAN FERRY THE BRIDE STRIPPED BARE
1978
01. Sign Of The Times (2:28) (Ferry)
02. Can't Let Go (5:13) (Ferry)
03. Hold On (I'm Coming) (3:42) (Hayes/Porter)
04. Same Old Blues (3:21) (J.J. Cale)
05. When She Walks In The Room (6:24) (Ferry)
06. Take Me To The River (4:28) (Green/Hodges)
07. What Goes On (4:10) (Reed)
08. Carrickfergus (3:47) (trad. arr. Ferry)
09. That's How Strong My Love Is (3:16) (Jamison)
10. This Island Earth (4:56) (Ferry)

Total playing time: 41:47

Bryan Ferry: Vocals, Backing Vocals, Piano [5]
Waddy Watchel : Guitar [1,2,4,7,8,10], Slide Guitar [3], Backing Vocals [3,5,6,7]
Neil Hubbard: Guitar Guitar [1-7,9,10]
Rick Marotta: Drums [1-7,9]
Alan Spenner: Bass [1-4,6,7,9,]
Herbie Flowers: String Bass [5,8]
John Wetton: Bass [10]
Ann O'Dell: Electric Piano [1], Piano [2,3], String Arrangements [1,2,5,10], Organ [7]
Mel Collins: Saxophones [3,9]
Martin Drover: Trumpet [3,9]
Steve Nye: Electric Piano [4]
Preston Heyman: Drums [10]

Recorded At Mountain Studios, Montreux, Switzerland 1977
Produced by Bryan Ferry, Waddy Wachtel, Rick Marotta, Simon Puxley & Steve Nye
Engineered by Steve Nye Assisted by Dave Richards & Martin Pearson
Remixed at Atlantic Studios by Lew Hahn & Jimmy Douglas
Assisted by Randy Mason

Counselling: Ahmet Ertegun
Design: Anthony Price
Photo: John Swannell
Artwork by CREAM
Cover star: Barbara Allen
Typography: Brian Harris
Make-Up: Anthony Clavet, Yvonne Gold

(P) © 1978 E.G. Records Ltd.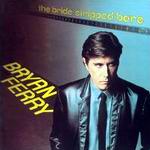 Lyrics