BRYAN FERRY BOYS AND GIRLS
1985
01. Sensation (5:00)
02. Slave To Love (4:13)
03. Don't Stop The Dance (4:15)
04. A Waste Land (1:00)
05. Windswept (4:21)
06. The Chosen One (4:50)
07. Valentine (3:45)
08. Stone Woman (4:56)
09. Boys And Girls (5:22)

Total playing time: 37:47

All tracks by B. Ferry except 3 by Bryan Ferry/Rhett Davies

Musicians:
Alfa Anderson, Jon Carin, Michelle Cobbs, Rhett Davies, Yanick Etienne, Bryan Ferry, Colleen Fitz-Charles, Lisa Fitz-Charles, Simone Fitz-Charles, Guy Fletcher, David Gilmour, Omar Hakim, Virginia Hewes, Ednah Holt, Neil Hubbard, Neil Jason, Chester Kamen, Mark Knopfler, Tony Levin, Jimmy Maelen, Martin McCarrick, Marcus Miller, Andy Newmark, Nile Rodgers, David Sanborn, Keith Scott, Alan Spenner, Anne Stephenson, Fonzi Thornton & Ruby Turner

Produced by Bryan Ferry & Rhett Davies
Engineered by Rhett Davies with
Bob Clearmountain, Neil Dorfsman, Femi Jiya, Dominic Maita, Brian McGee & Andy Lydon
Assisted by Benji Armbrister, Carb, Steve Churchyard, Randy Ezratty, Dave Greenberg, Kevin Killen, Mike Krowiak, Bruce Lampcov, John Levell, Heff Moraes, Peter Revill, Kendal Stubbs
Recorded At Air Studios, London; Compass Point, Nassau; Effanel, RPM, Sarm West, The White House
Mixed by Bob Clearmountain
Mastered by Robert C. Ludwig

Art direction: Bryan Ferry & Simon Puxley
Artwork by CREAM
Photo: Anthony Price

(P) © 1985 Virgin Records Ltd.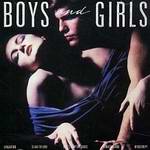 Lyrics