RAINBOW BENT OUT OF SHAPE
1983
01. Stranded (4:30) (Blackmore/Turner)
02. Can't Let You Go (4:22) (Blackmore/Turner-intro:Rosenthal)
03. Fool For The Night (4:04) (Blackmore/Turner)
04. Fire Dance (4:30) (Blackmore/Turner/Glover/Rosenthal)
05. Anybody There (2:40) (Blackmore)
06. Desperate Heart (4:36) (Blackmore/Turner)
07. Street Of Dreams (4:26) (Blackmore/Turner)
08. Drinking With The Devil (3:44) (Blackmore/Turner)
09. Snowman (4:33) (Blackmore/Howard Black)
10. Make Your Move (5:25) (Blackmore/Turner)

Total playing time: 42:55

Ritchie Blackmore: Guitars
Roger Glover: Bass, Percussion
Joe Lynn Turner: Vocals
David Rosenthal: Keyboards
Chuck Burgi: Drums

Produced by Roger Glover
Recorded at Sweet Silence Studios, Copenhagen, Denmark
Enginereed by: Flemmming Rasmussen
Assisted by Thomas Breckling
Thanks to: Freddie Hansson, Erik Thomsen

Mixed at Beartracks Studios, NY
Engineered by: Nick Blagona
Using the: SSL Computer & Sony Digital System
Thanks to: Mike Barry, John Penzotti, Bob Troeller

Mastered at: Sterling Studios, NY by Greg Colbi
Thanks to: Steve Addabbo
Management: Bruce Payne, Thames Talent, Ltd.
Thanks to: Barbara Crissy, Denise Sprovach, Dee Lee Humphreys
Equipment manager: Raymond D'Addario
With: 'Cookie' Crawford, Albert 'Bogie' Crandall, Jeff Tarbell, Charlie Lewis & Gary Douglas
Personnel manager: Colin Hart
Cover photos: Derek Burnett
Sleeve design & concept: STd

Digitally remastered by Suha Gur at Univeral Music Group Studios

(P) © 1983 Universal Records, a div. of UMG Recordings, Inc.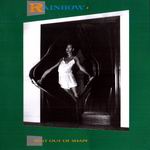 Lyrics