PETER GABRIEL UP
2002
01. Darkness (6:51)
02. Growing Up (7:33)
03. Sky Blue (6:37)
04. No Way Out (7:53)
05. I Grieve (7:24)
06. The Barry Williams Show (7:16)
07. My Head Sounds Like That (6:29)
08. More Than This (6:02)
09. Signal To Noise (7:36)
10. The Drop (3:03)

Total playing time: 66:48


1. Darkness

Drums: Manu Katche, Dave Power
Percussion: Mahut Dominique, Ged Lynch, Richard Chappell
Bass: Tony Levin
Guitars: David Rhodes
The London Session Orchestra: Strings
String Arrangement: Peter Gabriel, Will Gregory
Orchestration: Nick Ingham
Programming: Richard Chappell
Additional Programming: Alex Swift
Bosendorfer, Mutator, Keys, JamMan, MPC Groove: Peter Gabriel

2. Growing Up

Drums: Ged Lynch, Manu Katche
Percussion: Ged Lynch
Guitars: David Rhodes
Backing Vocals: AD Chivers, David Rhodes
Tape Scratching: Tchad Blake
Programming: Richard Chappell
Additional Programming: Pete Davis, Alex Swift
Organ, Sample Keys, Bass Keys, JamMan and MPC Groove: Peter Gabriel

Additional Production by Steve Osborne

3. Sky Blue

Drums: Manu Katche
Percussion: Ged Lynch, Daniel Lanois
Bass: Tony Levin
Guitars: David Rhodes, Daniel Lanois, Peter Green
Hammond: David Sancious
Additional Vocals: The Blind Boys Of Alabama
Programming: Richard Chappell
Additional Programming: Alex Swift
Backing Vocals: David Rhodes, Melanie Gabriel
Firefly Keys, Bosendorfer, Bass Pulse, MPC Groove: Peter Gabriel

Samples taken from original track produced by Daniel Lanois & engineered by David Bottrill

4. No Way Out

Drums: Dominic Greensmith, Steve Gadd
Tablas: Hossam Ramzy
Percussion: Ged Lynch
Bass: Tony Levin
Double Bass: Danny Thompson
Guitars: David Rhodes
Supercollider Drum Programming: Chris Hughes
Middle Section Backwards Piano: Mitchell Froome
Recorders: Richard Evans
Programming: Richard Chappell
Piano, Sample Keys, Harmonium, Tom Toms, Crotales, JamMan, Arpeggiated Bass, Telecaster, MPC Groove: Peter Gabriel

5. I Grieve

Drums: Manu Katche
Percussion: Ged Lynch, Will White, Stephen Hague
Bass: Tony Levin
Electric Guitar: David Rhodes
Acoustic Guitar: Richard Evans
Double Violin (Improvised): Shankar
Spectre Programming: Chuck Norman
Bridge Strings: Chuck Norman
Programming: Richard Chappell
Samples, Keys, Bass Keys: Peter Gabriel

Produced by Peter Gabriel & Stephen Hague
Mixed by Stephen Hague & Richard Evans

6. The Barry Williams Show

Drums: Manu Katche, Ged Lynch
Percussion: Ged Lynch
Guitar: David Rhodes
Backwards Guitar: Tony Berg
Bass: Tony Levin
Trumpet: Christian Le Chevretel
Backing Vocals: David Rhodes, Sally Larkin
Groove Treatment: Tchad Blake
Treated Loop: Richard Chappell
Programming: Richard Chappell
Reverse Strings, Mellotron, Organ, Bass Keys, Harmonica, Chorus Telecaster, String Samples, MPC Groove: Peter Gabriel

7. My Head Sounds Like That

Drums: Manu Katche
Percussion: Assane Thiam, Ged Lynch, Mahut Dominique, Hossam Ramzy
Guitars: David Rhodes
Bass: Tony Levin
Brass: The Black Dyke Mills Band
Brass Arrangement: Peter Gabriel, Ed Shearmur, Bob Ezrin
Loop Manipulation: Richard Chappell
Programming: Richard Chappell
Piano, Mellotron: Peter Gabriel

8. More Than This

Drums: Dominic Greensmith, Ged Lynch
Percussion: Ged Lynch
Guitar: David Rhodes
Bass: Tony Levin
Mandolin, Chamberlain: John Brion
Backing vocals: The Blind Boys of Alabama, David Rhodes, Melanie Gabriel
Programming: Richard Chappell
Organ, Sampled Guitar, Piano, Wonky Nord, Mutator, MPC Groove: Peter Gabriel

9. Signal To Noise

Drums: Steve Gadd
Dohl Drums: The Dohl Foundation
Percussion: Ged Lynch, Steve Gadd
Guitars: David Rhodes
Strings: The London Session Orchestra
String Arrangement: Peter Gabriel, Will Gregory
Orchestration: Nick Ingham
Additional Vocals: Nusrat Fateh Ali Khan
Backing Vocals: David Rhodes
Programming: Richard Chappell
Oxford Backwards Samples, Mellotron, SansAmp, MPC Groove, Bass Keys: Peter Gabriel

10. The Drop

Programming: Richard Chappell
Bosendorfer: Peter Gabriel

Mixed by Richard Chappell


Words & music by PG
Produced by PG except 2 & 5
Mixed by Tchad Blake except 5 & 10
Recorded & engineered by Richard Chappell
Addditional engineering: Richard Evans
Mastered at Metropolis by Tony Cousins

Assistant engineers: Alan Coleman, Edel Griffith, Dan Roe, Chris Treble
Mix assistant: Claire Lewis
Add. mix assistance: Marco Magliari, Paul Grady

Recorded & mixed at Real World Studios, Box, England
Add. recording on the Meduse & the Real World Mobile Recorder in Senegal & France

Add. recording & engineering:
Co-engineering on band recording sessions: Ben Findlay
The London Session Orchestra At Air Lyndhurst, England: Steve Orchard
The Blind Boys of Alabama, Hype Studios, Singapore: Derek Zuzarte assisted by Kevin Quah & Yang
The Black Dyke Band at Air Lyndhurst: Steve McLaughlin

The Blind Boys of Alabama:
Clarence Fountain, Jimmy Carter, George Scott & Joey Williams

The Dhol Foundation:
Master drummer: Johnny Kalsi
Bobby Punesar, Vijay Rakkar, Yash Puri, Johnny Kalsi, Jas Daffu & Indi Chana

Co-ordination, planning & general advice: Mike Large & Michael Thomas
Assistant to PG: Annie Parsons

A Real World design
Graphic design: Marc Bessant
Photo research & co-ordination: Dilly Gant
Design co-ordination: Susie Millns
Design concept: Marc Bessant & PG
Sleeve photo: Susan Derges (front cover 'The Observer & The Observed: Peter' back inlay 'Catching The Light'.
reverse of Booklet 'Liquid Form') © Peter Gabriel Ltd./ Susan Derges

Songs photo illustrations:
1. 'Prague' by Arno Raphael Makkinen
2. 'Waterbabies' by M. Richard Kirstel
3. ' Hateruma Island' by Shomei Tomatsu
4. 'A Few Days In Geneva' by Mari Mahr
5. 'Melted Beer Bottle After The Atomic Explosion 1945m Nagasaki' by Shomei Tomatsu
6. 'Regardez Mme! L'Escargot Vola' by Paul Thorel
7. 'Model 5' a performance by Granular Synthesis featuring Akemi Takeya
8. 'Hermetica' by Susan Derges
9. 'Falling In The Field' by Michal Rovner
10 'Untitled' by Adam Fuss

This is a Real World Production

Further info: www.petergabriel.com

(P) © 2002 Peter Gabriel Ltd. licenced exclusively to Virgin Records Ltd.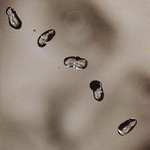 Lyrics