PINK FLOYD A MOMENTARY LAPSE OF REASON
1987
01. Signs Of Life (4:24) (Gilmour/Ezrin)
02. Learning To Fly (4:53) (Gilmour/Moore/Ezrin/Carin)
03. The Dogs Of War (6:10) (Gilmour/Moore)
04. One Slip (5:04) (Gilmour/Manzanera)
05. On The Turning Away (5:41) (Gilmour/Moore)
06. Yet Another Movie (Gilmour/Leonard)
6a. Round And Around (7:28) (Gilmour)
07. A New Machine Part 1 (1:46) (Gilmour)
08. Terminal Frost (6:17) (Gilmour)
09. A New Machine Part 2 (0:38) (Gilmour)
10. Sorrow (8:48) (Gilmour)

Total playing time: 51:09

David Gilmour: Guitars, Vocals, Keyboards & Sequencers
Nick Mason: Electric & Acoustic drums, Sound Effects

with:
Richard Wright: Piano, Vocals, Kurzweil, Hammond Organ
Bob Ezrin: Keyboards, Percussion & Sequencers
Tony Levin: Bass Guitar, Stick
Jim Keltner: Drums
Steve Forman: Percussion
Jon Carin: Keyboards
Tom Scott: Alto & Soprano Saxophones
Scott Page: Tenor Saxophone
Carmine Appice: Drums
Pat Leonard: Synthesizers
Bill Payne: Hammond Organ
Michael Landau: Guitar
John Halliwell: Saxophone
Darlene Koldenhaven: Backing Vocals
Carmen Twillie: Backing Vocals
Phyllis St. James: Backing Vocals
Donnie Gerrard: Backing Vocals

Produced by Bob Ezrin & David Gilmour
Recording & mixing engineered by: Andrew Jackson
Assisted by Robert (Ringo) Hrycyna
with Marc Desisto, Stan Katayama, Jeff Demorris
Additional re-mixing: James Guthrie*

Special thanks to Anthony Moore, Phil Manzanera, Langley Iddens, Tim Daly & Mike Wennick

Studios:
Astoria, Hampton; Britannia Row Studios, London; A & M Studios, LA; Can Am Studios, LA; Village Recorder, LA; Mayfair, London; Audio International, London
Also thanks to Winston Johnson at Cama, Gary Barlogh at Producers Workshop, Air London.

Art direction: Storm Thorgerson
Front cover concept: Storm Thorgerson & Nexus
Graphic design: Andrew Ellis, Icon, London

Photography: Robert Dowling
Production: Lance Williams
Portrait: David Bailey
Additional photography: Robert Mort
Artwork: Mekon

Spherical sound by: Tom Jones, Ken Caillats, Sarah Bruce
Recorded by Guy Charbonneau, Le Mobile, Los Angeles
Additional sound effects by Andrew Jackson
General technical & musical instrument supervision: Phil Taylor
Mastered at Mastering Lab & Precision Lacquer
Pink Floyd management: Steve O'Rourke, EMKA Productions, London

This album was recorded digitally, with the exception of the acoustic drums & bass guitar which were recorded analogue. Dolby SR noise reduction was used for mixing: mastered direct to metal

Drums by Ludwig Drum Co. USA, Symmonds Electronics UK & Paiste Cymbals.

(P) © 1987 Pink Floyd Music (1987) Ltd. under exclusive licence to EMI Records Ltd.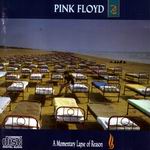 Lyrics