PINK FLOYD MEDDLE
1971
01. One Of These Days (5:57) (Mason/Gilmour/Waters/Wright)
02. A Pillow Of Winds (5:07) (Gilmour/Waters)
03. Fearless (6:05) (Gilmour/Waters)
04. San Tropez (3:40) (Waters)
05. Seamus (2:13) (Mason/Gilmour/Waters/Wright)
06. Echoes (23:31) (Mason/Gilmour/Waters/Wright)

Total playing time: 46:49

Roger Waters: Bass Guitar & Vocals
Nick Mason: Percussion
Dave Gilmour: Guitars & Vocals
Rick Wright: Keyboards & Vocals

Recorded at Air Studios, EMI Studios Abbey Road & at Morgan Studios London 1971
Engineers: Peter Bown & John Leckie at Air and
Rob Black & Roger Quested at Morgan.

Album cover designed by Pink Floyd
Outer sleeve photos by Bob Dowling
Inner sleeve photos by Tony May
Band photo by Hipgnosis

All material composed & produced by Pink Floyd
© 1971 Pink Floyd Music Publishers Ltd.

'Fearless' includes 'You'll Never Walk Alone'
(Rodgers/Hammerstein)
Chappell Music Ltd.

Re-mastered (1992) edition:
Design by Storm Thorgerson & Peter Curzon

(P) © 1971 EMI Records Ltd.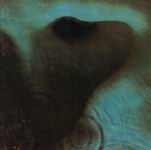 Lyrics