PINK FLOYD THE FINAL CUT
1983
A requiem for the post war dream by Roger Waters

01. The Post War Dream (3:02)
02. Your Possible Pasts (4:22)
03. One Of The Few (1:23)
04. The Hero's Return (2:56)
05. The Gunners Dream (5:07)
06. Paranoid Eyes (3:40)
07. Get Your Filthy Hands Off My Desert (1:19)
08. The Fletcher Memorial Home (4:11)
09. Southampton Dock (2:13)
10. The Final Cut (4:46)
11. Not Now John (5:01)
12. Two Suns In The Sunset (5:14)

Total playing time: 43:18

David Gilmour
Nick Mason
Roger Waters

with:
Michael Kamen: Piano, Harmonium
Andy Bown: Hammond Organ
Ray Cooper: Percussion
Andy Newmark: Drums on 'Two Suns'
Raphael Ravenscroft: Tenor Sax
The National Philharmonic Orchestra
conducted & arranged by Michael Kamen

All songs composed by Roger Waters
Produced by Roger Waters, James Guthrie & Michael Kamen
Engineered by James Guthrie & Andy Jackson
Assistant engineers: Andy Canelle, Mike Nocito, Jules Bowen

Sleeve design: Roger Waters
Photography: Willie Christie
Artwork: Artful Dodgers

Recorded in England at Mayfair, Olympic, Abeey Road, Eel Pie, Audio International, Rak, Hookend & the Billard Room between July & December, 1982

Holophonics by Zuccarelli Labs, Ltd ©
Pink Floyd management: Steve O'Rourke
Mastered by Doug Sax at the Mastering Lab
Special thanks to Neal Wharton

for Eric Fletcher Waters 1913-1944

(P) © 1983 Pink Floyd Music Ltd.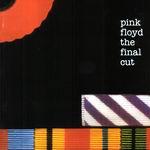 Lyrics