PINK FLOYD THE DIVISION BELL
1994
01. Cluster One (5:58) (Wright/Gilmour)
02. What Do You Want From Me (4:21) (Gilmour/Wright/Samson)
03. Poles Apart (7:04) (Gilmour/Samson/Laird-Clowes)
04. Marooned (5:28) (Wright/Gilmour)
05. A Great Day For Freedom (4:18) (Gilmour/Samson)
06. Wearing The Inside Out (6:48) (Wright/Moore)
07. Take It Back (6:12) (Gilmour/Ezrin/Samson/Laird-Clowes)
08. Coming Back To Life (6:19) (Gilmour)
09. Keep Talking (6:11) (Gilmour/Wright/Samson)
10. Lost For Words (5:14) (Gilmour/Samson)
11. High Hopes (8:31) (Gilmour/Samson)

Total playing time: 66:24

David Gilmour: Guitars, Vocals, Bass, Keyboards & Programming
Nick Mason: Drums & Percussion
Richard Wright: Keyboards & Vocals

with:
Jon Carin: Programming & Additional Keyboards
Guy Pratt: Bass
Gary Wallis: Played & Programmed Percussion
Tim Renwick: Guitars
Dick Parry: Tenor Saxophone
Bob Ezrin: Keyboards & Percussion
Sam Brown, Durga McBroom, Carol Kenyon, Jackie Sheridan & Rebecca Leigh-White: Backing Vocals

Recording & mixing engineer: Andrew Jackson
Orchestra arranged by Michael Kamen
Orchestrations by Michael Kamen & Edward Shearmur
Orchestra recorded by Steve McLaughlin

Recorded at Astoria Recording Studio, London
Brittania Row Recording Studios, Abbey Road Recording Studios, Metropolis Studios, The Creek Recording Studios (Engineer Keith Grant)
Mixing assisted by the EFOST Monitoring System
Assistant engineer at Astoria Jules Bowen

With thanks to: Polly Samson, Nick Laird-Clowes, Douglas Adams, Anthony Moore, Stephen Hawking

Cover design: Storm Thorgerson
Sculptures by Aden Hynes & John Robertson
From Drawings by Keith Breeden
Photography: Tony May, with Rupert Truman & Stephen Piotrowski
Graphics: Peter Curzon, with Ian Wright
Illustrations by John Whitely & Sally Norris

Earth Noises: G William Forgey
General technical & musical instrument supervision: Phil Taylor
Drum technician: Clive Brooks
(Thanks to Paiste Cymbals & Drum Workshops LA)

Mastered at the Mastering Lab, L.A. by Doug Sax & James Guthrie

Management: Steve O'Rourke, EMKA Productions, London

Published by Pink Floyd Music Publishers Inc. (BMI) © 1994

(P) © 1994 Pink Floyd Music (1987) Ltd. under exclusive licence to EMI Records Ltd.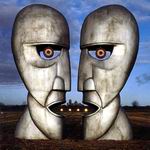 Lyrics