PINK FLOYD THE DARK SIDE OF THE MOON
1973
01. a) Speak To Me (3:57) (Mason)
b) Breathe (Waters/Gilmour/Wright)
02. On The Run (3:31) (Gilmour/Waters)
03. Time (7:05) (Mason/Waters/Wright/Gilmour)
04. The Great Gig In The Sky (4:47) (Wright)
05. Money (6:23) (Waters)
06. Us And Them (7:48) (Waters/Wright)
07. Any Colour You Like (3:25) (Gilmour/Mason/Wright)
08. Brain Damage (3:50) (Waters)
09. Eclipse (2:06) (Waters)

Total playing time: 42:53

David Gilmour: Vocals, Guitars, VCS3
Nick Mason: Percussion, Tape Effects
Richard Wright: Keyboards, Vocals, VCS3
Roger Waters: Bass Guitar, Vocals, VCS3, Tape Effects

with:
Dick Parry: Saxophone on 'Us And Them' & 'Money'
Clare Torry: Vocals on 'The Great Gig In The Sky'
Doris Troy, Leslie Duncan, Liza Strike, Barry St John: Backing Vocals

Produced by Pink Floyd
Recorded at Abbey Roads Studios, London between June 1972 & January 1973

Engineer: Alan Parsons
Assistant: Peter James
Mixing supervised by Chris Thomas
Sleeve design by Hipgnosis
Sleeve art by George Hardie N.T.A.
Photography by Hipgnosis

All lyrics by Roger Waters

(P) © 1973 EMI Records Ltd.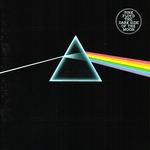 Lyrics