PINK FLOYD ATOM HEART MOTHER
1970
01. Atom Heart Mother (23:36) (Mason/Gilmour/Waters/Wright/Geesin)
a. Father's Shout; b. Breast Milky; c. Mother Fore; d. Funky Dung;
e. Mind Your Throats Please; f. Remergence
02. If (4:26) (Waters)
03. Summer '68 (5:28) (Wright)
04. Fat Old Sun (5:23) (Gilmour)
05. Alan's Psychedelic Breakfast (13:01) (Waters/Mason/Gilmour/Wright)
a. Rise And Shine; b. Sunny Side Up; c. Morning Glory

Total playing time: 52:05

Roger Waters: Bass, Vocals
David Gilmour: Guitars, Vocals
Richard Wright: Keyboards, Vocals
Nick Mason: Drums

with:
John Aldiss Choir

Produced by Pink Floyd
Executive producer: Norman Smith
Engineers: Peter Bown & Alan Parsons
Original cover design & photography: Hipgnosis

Digital re-master (1994):
Re-mastering supervised by James Guthrie
Mastered by Doug Sax at the Mastering Lab, L.A.

Re-package design: Storm Thorgereson & Jon Crossland
New photographs: Tony May

(P) © 1970 EMI Records Ltd.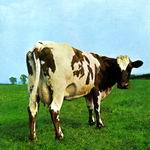 Lyrics