PINK FLOYD ANIMALS
1977
01. Pigs On The Wing, Part 1 (1:25) (Waters)
02. Dogs (17:04) (Waters/Gilmour)
03. Pigs (Three Different Ones) (11:21) (Waters)
04. Sheep (10:23) (Waters)
05. Pigs On The Wing, Part 2 (1:24) (Waters)

Total playing time: 41:37

Roger Waters
David Gilmour
Richard Wright
Nick Mason

All lyrics by Roger Waters
Produced by Pink Floyd
Engineered by Brian Humphries
Recorded at Britannia Row Studios London

Sleeve design: Roger Waters
Organised by Storm Thorgerson, Aubrey Powell
Graphics by Nick Mason
Photography: Aubrey Powell, Peter Christopherson, Howard Bartrop, Nic Tucker, Bob Ellis, Rob Brimson, Colin Jones

Inflatable Pig designed by E.R.G., Amsterdam

(P) © 1977 Pink Floyd Music Ltd.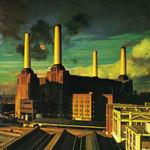 Lyrics