MIKE OLDFIELD HEAVEN'S OPEN
1991
01. Make Make (4:18)
02. No Dream (6:00)
03. Mr. Shame (4:20)
04. Gimme Back (3:36)
05. Heaven's Open (4:27)
06. Music From The Balcony (19:42)

Total playing time: 42:25

Simon Phillips: Drums
Dave Levy: Bass
Mickey Simmonds: Hammond, Piano
Michael Oldfield: Vocals, Guitars, Keyboards
Andy Longhurst: Add. Keyboards
Courtney Pine: Saxophones, Bass Clarinet

The 'Sassy Choir' were:
Vicki St James, Sylvia Mason-James, Dolly James, Debi Doss, Shirlie Roden, Valerie Etienne
Add. vocal Harmonies by Anita Hegerland, Nikki 'B' Bentley, Tom Newman

Boffinry: Richard Barrie
Thanks also to: Helena Shenel, Jeremy Parker

'The Digits':
Atari, C-Lab, Fairlight, Akai S 1100, EMU Proteurs, Roland D 50, D 550, Lorg M1, Steinberg 'Topaz'

'The Mixer': Harrison series X, 'The Recorder': Sony 3348, 'The Microphone': B & T K

All tracks writen & sung by Michael Oldfield
Produced & engineered by Thom Newman
Mixed by Michael Oldfield, assisted by Thom Newman

(P) © 1991 Virgin Records Ltd.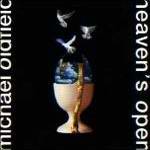 Lyrics