MANFRED MANN'06 with MANFRED MANN'S EARTH BAND 2006
2004
featuring Chris Thompson, Thomas D., Dean Hart, Barbara Thompson

01. Demons And Dragons (3:29)
02. Two Brides [Interlude] (1:22)
03. Down In Mexico (3:31)
04. Happenstance (3:02)
05. The History Of Sexual Jealousy (4:46)
06. Black Eyes (2:10)
07. Mars (3:56)
08. Get Me Out Of This (5:35)
09. Frog (4:29)
10. Two Friends (5:24)
11. Monkmann (3:10)
12. Marche Slave [Instrumental Interlude] (1:42)
13. Independent Woman (3:30)
14. Dragons [reprise] (2:01)

Total playing time: 48:15
1. Demons And Dragons [with Thomas D]
Music/Lyrics: Mann/McAloon/Super Furry Animals
Manfred Mann'06
Noel McCalla: Vocals
Chris Thompson: Vocals
Thomas D: German Rap
Matt Lottstadt: Guitars
Mick Rogers: Guitars
Manfred Man: Keyboards

2. Two Brides [Interlude]
Music: Mann, Lyrics: Guy
Performed by MMEB
Mixed by Dean Hart

3. Down In Mexico
Music/Lyrics: Lieber & Stoller
Don Freeman: Poem & Talking
Manfred Mann'06
Manfred Man: Keyboards
Noel McCalla: Vocals
Chris Thompson: Vocals

4. Happenstance [instrumental]
Music: Mann
Manfred Mann'06
Mick Rogers: Guitars
Manfred Man: all other instruments

5. The History Of Sexual Jealousy Parts 17 to 24
Music/Lyrics: Mann/N Currie
Co-produced by Dean Hart
Mick Rogers: Guitars
Noel McCalla: Vocals
Barbara Thompson: Sax solo
Dean Hart: other instruments


6. Black Eyes
Music: Mann/Pook
Manfred Mann'06
Matt Lottstadt: Guitars
Mick Rogers: Guitar solo
Manfred Man: Keyboards & Bass part
Geoff Dunn: Drums

7. Mars
Music: Mann, Lyrics: Guy/Mann (based on theme by G.Holst)
Performed by MMEB
Manfred Mann: Vocals
Noel McCalla: Vocals
Hazel Hernadez: Vocals

8. Get Me Out Of This
Music: Mann, Lyrics: Guy/Mann (based on a theme by J.Massenet)
Performed by MMEB with Chris Thompson (chorus vocals)
Matt Lottstadt: Guitar
Henry's Eight: Classical Vocals
Melanie Pappenheim: Vocals

9. Frog
Music/Lyrics: Mann (based on Easter overture, a Russian Easter theme)
Performed by MMEB
Arte Chorale: Russian Vocals

10. Two Friends
Music: Mann, Lyrics: Guy
Performed by MMEB
Chris Thompson: vocals

11. Monkmann
Trad. arr. & co-produced by Dean Hart
Music/Lyrics: Mann/Hart
Manfred Mann'06
Arte Chorale: Vocal sample
Geoff Dunn: Drums
Mick Rogers: Guitar
Manfred Man: Keyboards

12. Marche Slave [Instrumental Interlude]
Music: Mann (based on a theme Tchaikovsky)
MMEB
Dean Hart: Bass, Guitar, Mixing

13. Independent Woman [With Thomas D]
(Based on Tchaikovsky Piano Concerto)
Lyrics: Hart/Shante/Guy/Mann/Thomas D/Clear/Williams
Dean Hart: Co-producer, Lead & Backing Vocals, Rhythm Guitar
Thomas D: German Rap
Manfred Mann & Noel McCalla: low Vocal chant
Roxanne Shante: Rap sample (from 'Independent Woman' on 'Bad Sister' album)

14. Dragons [reprise]
MANFRED MANN'S EARTH BAND:

Noel McCalla: Vocals Mick Rogers: Guitars Steve Kinch: Bass
Manfred Man: Keyboards & bit of Vocals

Executive producer: Manfred Mann
Co-producer: Dean Hart
Engineer: Ilan Rog
Also Tery Medhurst, Gus Hoevenaars, Matt Lottstadt, Ian Thompson, Dean Hart, Ray Mascaranes
Thanks to: Chris Thompson, Hazel Hernandez, Arte Chorale, Cassandra Steen, Henry's Eight, Thomas Hegarty,
Drum loops by Abe Laboriek Jr, courtesy of Spectrasonics Burning Grooves & Retrofunk
www.manfredmann.com
Special thanks to webmaster Ron Clint & Nigel Stanworth for ther sterling work

Some of the Earth Band backing tracks were recorded in a different & experimental manner. There were no rehearsals beforehand. As a result almost everything you will hear, was never played before or rehearsed, so what you hear are the first takes of their kind. These tracks are 'Mars', 'Two Friends', 'Marche Slave', 'Frog' & 'Get Me Out Of This'. Musically this method worked pretty well, but was also time consuming as we had to connect different sections together afterwards. This is because verses & choruses were played separately.
A number of other tracks were put together in a more organised fashion. Some of these are in a style which is different to what fans of Earth Band might expect. Therefore I have entitled these Manfred Mann'06. Although in most cases I've used the musicians from EB. Equally i've called the album 2006 although it will be released in 2004, [& in some places 2005]. It's simply that being the wrong date & being out of time might liik interesting - at least until 2006.
I'd also like to thank Nicholas Bulestin for his work during the initial stages of the EB tracks. He & I are both aware of the extent of his contribution.





(P) © 2004 Petbrook Ltd. exclusively licenced to Edel Records GmbH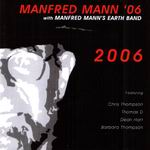 Lyrics