THE MOODY BLUES OCTAVE
1978
01. Steppin' In A Slide Zone (5:34) (Lodge)
02. Under Moonshine (5:00) (Thomas)
03. Had To Fall In Love (3:40) (Hayward)
04. I'll Be Level With You (3:49) (Edge)
05. Driftwood (5:01) (Hayward)
06. Top Rank Suite (3:43) (Hayward)
07. I'm Your Man (4:21) (Thomas)
08. Survival (4:09) (Lodge)
09. One Step Into The Light (4:28) (Pinder)
10. The Day We Meet Again (6:24) (Hayward)

Total playing time: 46:15

Justin Hayward: Guitar, Vocals
John Lodge: Bass, Guitar, Vocals
Ray Thomas: Bass, Flute, Vocals
Graeme Edge: Drums

R.A. Martin: Horn, Saxophone, Horn arrangements
String arranged & conducted by Jimmie Haskell

Produced by Tony Clarke
Engineers: Pete Carlson, Chris Brunt, Dennis Hansen, Richard Kaplan, Gary Ladinsky
Cover design by Richard E. Roth
Cover co-ordination: Richard Roth

(P) © 1978 Threshold Records Ltd./The Decca Record Co.Ltd.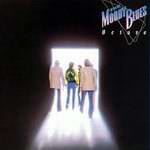 Lyrics