RAY THOMAS HOPES WISHES & DREAMS
1976
01. In Your Song (4:30)
02. Friends (2:57)
03. We Need Love (4:17)
04. Within Your Eyes (3:27)
05. One Night Stand (3:20)
06. Keep On Searching (4:52)
07. Didn't I (3:46)
08. Migration (3:41)
09. Carousel (3:52)
10. The Last Dream (4:52)

Total playing time: 39:38

All tracks by Ray Thomas/Nicky James except 1 by Nicky James & 10 by Ray Thomas

Ray Thomas: Bass Flute, 'C' Flute, Harmonica, Lead & Backing Vocals
John Jones: Acoustic & Electric Guitars, Backing Vocals, Brass Arrangements on 5,6
Trevor Jones: Electric Bass, Backing Vocals
Mike Moran: Keyboards
Graham Deakin: Drums, Percussion
Nicky James, Barry St. John, Liza Strike, Helen Chappelle: Backing Vocals:
Terry James: Orchestral Arrangements

Produced by Ray Thomas in association with Derek Varnals
U.K. cutting engineer: Harry Fisher
Recording engineers: Derek Varnals, Dave Baker

Illustration & design: Phil Travers
Photo: Gered Mankowitz

'I would like to express my thanks to Nicky James whose love for music helped to make this album possible.' - [RT]

(P) © 1976 Threshold Records Ltd./The Decca Record Co.Ltd.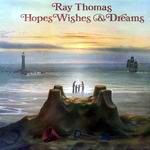 Lyrics