RAY THOMAS FROM MIGHTY OAKS
1975
01. From Mighty Oaks (3:44)
02. Hey Mama Life (5:37)
03. Play It Again (4:26)
04. Rock-A-Bye Baby Blues (3:31)
05. High Above My Head (3:32)
06. Love Is The Key (5:02)
07. You Make Me Feel Alright (4:36)
08. Adam And I (5:39)
09. I Wish We Could Fly (5:25)

Total playing time: 41:36

All tracks by Ray Thomas/Nicky James except 4 Nicky James & 9 by Ray Thomas

Ray Thomas: Flute, Bass Flute, Harmonica, Lead Vocals, Backing Vocals
B.J. Cole: Pedal Guitar
Richard Hewson: Orchestral Arranger, Conductor
Nicky James: Vocal Backing, Percussion
John Jones: Acoustic/Electric Guitar, Backing Vocals
Trevor Jones: Bass Guitar, Backing Vocals
Mike Moran: Keyboards
Dave Potts: Drums, Percussion
Mike Silver: Acoustic Guitar, Backing Vocals

Produced by Ray Thomas & Derek Varnals
Recording Engineer: Derek Varnals
Second Engineer: Dave Baker
U.S. cutting engineer: Bob MacLeod of Artisan Sound Studios, Hollywood
Recorded at Threshold Studios, London

Illustration & design: Phil Travers
Insert photo: Graham Hughes, Mike Putland
CD cover: Shoot That Tiger!

(P) © 1975 Threshold Records Ltd./The Decca Record Co.Ltd.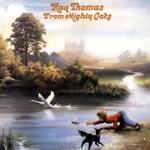 Lyrics