MARILLION SCRIPT FOR A JESTER'S TEAR
1983
01. Script For A Jester's Tear (8:39)
02. He Knows You Know (5:22)
03. The Web (8:48)
04. Garden Party (7:15)
05. Chelsea Monday (8:16)
06. Forgotten Sons (8:21)

Total playing time: 46:41

All songs written, arranged & performed by Marillion
All lyrics written by Fish

Fish: Voice
Mike Pointer: Tama Kit, Paiste Cymbals, Percussion.
Pete Trewavas: Rickenbacker 4000 Bass, Peavey amps, Fender Prec, Fretless.
Steve Rothery: Yamaha SG2000, Yamaha Acoustic, Squire '57 Strat, Fender Strat, Marshall & Mesa Boogie amps.
Mark Kelly: Steinway Grand piano, Harpsichord, Mini Moog, Roland JP8, PPG Wave 2-2, Emulator, Pro One, Yamaha CS15, Korg CX3 organ.

'Forgotten Sons' recorded with the Marquee Club's Parents Association Children's Choir - Matthew, Daniel, Andrew, Catherine, Stephen, Richard, Julie, Ben, Darius, Kelly, Lauren, Liam & Lee. Newcaster's Voice: Peter Cockburn

Produced by Nick Tauber.
Recorded & Mixed by Simon Hanhart
Assistant Engineers: Mark, Andy, Mike Martin
At The Marquee Studios, London, Dec 82- Feb 83
Pete James & Abbey Road - Sound Effects

Management: John Arnison
Crew: Priv Hedge, Dave Walden, Deek, Gary Townsend, Tom Boyle

Special thanks: Keith Goodwin, Derek Kemp, Hugh Stanley Clarke, Sarah & all at EMI, Tony Stratton-Smith & all at Charisma, Dave Hitchcock, Nigel, Jack, Bush & The Marquee Club, Paul Lewis, Julian Cull, Steve Jones, Tim Hollings, Tony Wilson, Dave Stewart, Tom Russell, Phil, Geoff, Xavier & all for support & encouragement

Art direction & design: Jo Mirowski, Torchlight, London

Illustration: Mark Wilkinson - from a concept by Marillion

(P) © 1983 EMI Records Ltd.





Bonus disc (remaster,1997):

01. Market Square Heroes (4:17) (Battle Priest edit)
02. Three Boats Down From The Candy (4:30) (single version)
03. Grendel (19:08) (Fair Deal Studios version, recorded in 1982)
04. Chelsea Monday (6:52) (Manchester Square demos 26/07/82)
05. He Knows You Know (4:28) (Manchester Square demos 26/07/82)
06. Charting The Single (4:51) (original single version)
07. Market Square Heroes (4:48) (original full re-recorded version)

Total playing time: 49:03

Digitally re-mastered by Peter Mew & Mark Kelly at Abbey Road Studios London April - July 1997
Project coordination: Nigel Reeve & Lucy Jordache.
Re-packaging design by Bill Smith Studio with special thanks to John Randle, Carl Glover & Mark Wilkinson
Photography: Steve Rothery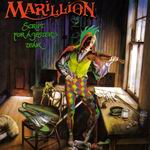 Lyrics