01. Assassing (7:29)
02. Incubus (8:43)
03. Cinderella Search (5:45)
04. Emerald Lies (5:28)
05. Forgotten Sons (10:36)
06. Garden Party (6:32)
07. Market Square Heroes (7:32)

Total playing time: 51:59

Recorded at the Spectrum, Montreal, Canada, 19-20/06/84 &
Leicester De Montford Hall, England 5/03/84

Fish: Vocals

Ian Mosley: Drums
Yamaha 9000 Recording Series, Cymbals by Zildjian

Pete Trewavas: Bass
Peavey MKIII Amp, Peavey 2x15 4x12 Cabs, Aria SB1000 Basses, Moog Bass Pedals, Boss, Flanger, Chorus, Delay Pedals.

Steve Rothery: Guitars
Yamaha SG 3000, Roland Guitar Synth GR 300/505, Squire 57 Stratocaster.
Amps: Roland JC120 Combo, Marshall MV50 Combo
Effects: Boss Computer Pedal Board, Roland SDE 3000 Digital Delay

Mark Kelly: Keyboards
Yamaha CP80 Piano, Yamaha DX 7, Minimoog, P.P.G. Wave 2.2, Roland Jupiter 8, Roland SDE 3000 Digital Delay, PRO 1, Korg Cx3 Organ, Yamaha 12 Channel Mixing Desk, Yamaha Amps & Speakers

Special thanks to our stage crew: Andy Field, Gary Townsend, Steve Rainford, Derek Simpson
PA Crew: Priv Hedge, Phil Tame, Tom Boyle
Lighting Crew: Chops Flury, Warwick Price, Kevin, Bryce

Tour manager: Paul Lewis
Management: John Arnison
Photography by Julian Cull
Sleeve by Mark Wilkinson/ Fish Concept
Collage by Julie Hazelwood

All titles composed & written by Marillion
All titles published by Marillion Music/Charisma/Chappell
Produced by Simon Hanhart & Marillion
Mixed by Simon Hanhart at The Marquee Studios, London.

(P) © 1984 EMI Records Ltd.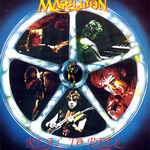 'Real to Reel' remaster was issued in 1997 as a double album with
BRIEF ENCOUNTER (EP originally released in 1986):

01. Lady Nina (5:47) (extended version)
02. Freaks (4:09) (single version)
03. Kayleigh (4:10) (live)
04. Fugazi (8:32) (live)
05. Script For A Jester's Tear (8:51) (live)

Total playing time: 31:31

Recorded live at the London Hammersmith Odeon, January 9 - 10, 1986 except
tracks 1 & 2 - recorded at Hansa Studios, Berlin, March 1985

Real To Reel/ Brief Encounter remastered edition:

Project co-ordination: Nigel Reeve
Marillion are managed by John Arnison
Special thanks to Lucy Jordache
Digitally remastered by Brian Fifield at Abbey Road Studios, January 1997
Artwork by Phil Smee at Waldo's design & Dream Emporium
Original sleeve by Mark Wilkinson/Fish
Collage by Julie Hazelwood
Brief Encounter
(original 1986 EP cover)