MARILLION MISPLACED CHILDHOOD
1985
01. Pseudo Silk Kimono (2:13)
02. Kayleigh (4:03)
03. Lavender (2:25)
04. Bitter Suite: (7:56)
a. Brief Encounter/ b. Lost Weekend/ c. Blue Angel/
d. Misplaced Rendezvous/ e. Windsewpt Thumb
05. Heart Of Lothian (4:01)
a. Wide Boy/ b. Curtain Call
06. Waterhole (Expresso Bongo) (2:13)
07. Lords Of The Backstage (1:52)
08. Blind Curve: (9:29)
a. Vocal Under A Bloodlight/ b. Passing Strangers/
c. Mylo/ d. Perimeter Walk/ e. Threshold
09. Childhood's End? (4:33)
10. White Feather (2:23)

Total playing time: 41:15

Fish: Voice
Steve Rothery: Guitars
Mark Kelly: Keyboards
Pete Trewavas: Bass
Ian Mosley: Drums, Percussion

Music by Kelly, Mosley, Rothery, Trewavas
Lyrics by Fish & Derek W. Dick

Produced by Chris Kimsey For Wonderknob Ltd.
Recorded by Thomas Steimier
Mixed by Chris Kimsey
Mixing engineer: Mark Freegard
Recorded at Hansa Ton Studios, Berlin March to May 1985
Management: John Arnisson
Crew: 'Privet' Hedge, Andy Field
Sleeve design & illustration by Mark Wilkinson
With special thanks to Robert Mead
Collage by Julie Hazelwood
Cover concept by Fish
This album is dedicated to John Mylett

(P) © 1985 EMI Records Ltd.





Bonus disc (remaster,1997):

01. Lady Nina (5:50) (extended version)
02. Freaks (4:08) (single version)
03. Kayleigh (4:03) (alternative mix)
04. Lavender Blue (4:22) (remix)
05. Heart O Lothian (5:54) (extended mix)
06. Pseudo Silk Kimono (2:11) (Feb 1985 unreleased demo)
07. Kayleigh (4:06) (Feb 1985 unreleased demo)
08. Lavender (2:37) (Feb 1985 unreleased demo)
09. Bitter Suite (2:54) (Feb 1985 unreleased demo)
10. Lords Of The Backstage (1:46) (Feb 1985 unreleased demo)
11. Blue Angel (1:46) (Feb 1985 unreleased demo)
12. Misplaced Rendezvous (1:56) (Feb 1985 unreleased demo)
13. Heart Of Lothian (3:49) (Feb 1985 unreleased demo
14. Waterhole (Expresso Bongo) (2:00) (Feb 1985 unreleased demo)
15. Passing Strangers (9:17) Feb 1985 unreleased demo)
16. Childhood's End? (2:23) (Feb 1985 unreleased demo)
17. White Feather (2:18) (Feb 1985 unreleased demo)

Total playing time: 61:20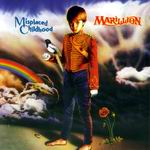 Lyrics