FISH FIELD OF CROWS
2003
01. The Field (8:46) (Dick/Watson)
02. Moving Targets (5:44) (Dick/Watson/Duguid)
03. The Rookie (5:34) (Dick/Watson)
04. Zoo Class (5:25) (Dick/Watson/Duguid)
05. The Lost Plot (5:17) (Dick/Turrell)
06. Old Crow (5:22) (Dick/Watson/Duguid)
07. Numbers (5:39) (Dick/Watson/Usher)
08. Exit Wound (5:59) (Dick/Watson)
09. Innocent Party (7:33) (Dick/Watson/Duguid)
10. Shot The Craw (6:22) (Dick/Watson/Duguid)
11. Scattering Crows (Still Time) (5:07) (Dick/Watson/Turrell/Duguid)

Total playing time: 67:03

Fish: Lead Vocals

Bruce Watson: Guitars & E-bow
Frank Usher: Guitars, Slide Guitar
Steve Vantsis: Bass
Mark Brzezicki: Drums & Percussion
Tony Turrell: Keyboards
Dave Haswell: Percussion
Danny Gillan: Backing Vocals on 1-4, 6,11
Richard Sidwell: Trumpet & Flugel Horn on 1,4,6,8,10
Steve Hamilton: Saxophone on 1,4,6,8,10
Yatta, Lars K. Lande: 'Crowd' vocal on 1
Irvin Duguid: Clavinet on 6

Recorded, engineered & produced by Elliot Ness at The Studio, Haddington, East Lothian, Scotland
Mixed by Elliot Ness at Ca Va Studios, Glasgow, Scotland
Assistant engineer at Ca Va Studios - Geoff Allan
Mastered by Calum Malcolm

Cover concept by Fish, inspired by Vincent Van Gogh's 'Wheatfield under threatening skies with crows'.
Based on a photograph taken in the back field, Spittalrig Farm, East Lothian, view towards Traprain Hill, by Mark Wilkinson. Portrait painting by Mark Wilkinson
Inside back photo by Lars K. Lande
Design & artwork: David Axtell @ L-Space Design
All tracks published by Fishy Music Ltd/Copyright Control

This album is dedicated to Robert, Isa & Tara Dick &to all those who fell in the field
'La Tristesse durera' - Vincent Van Gogh July 1890

(P) © 2003 Derek W. Dick under exclusive license to The Chocolate Frog Record Company Ltd.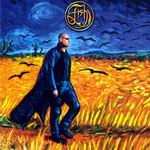 Lyrics