THE HONEYDRIPPERS VOLUME 1
1984
01. I Get A Thrill (2:39) (Rudy Toombs)
02. Sea Of Love (3:03) (George Khoury/Philip Baptiste)
03. I Got A Woman (2:58) (Ray Charles/Richard)
04. Young Boy Blues (3:30) (Doc Pomus/Phil Spector)
05. Rockin' At Midnight (5:57) (Roy Brown)

Total playing time: 18:07

Bonus track ['Nine Lives' Boxed Set, 2006]:

06. Rockin' At Midnight (4:14) [live bootleg recording, Birmingham NEC, 1985]

Robert Plant: Vocals
Jimmy Page: Guitars
Jeff Beck: Guitars
Robbie Blunt: Guitar
Andy Sylvester: Guitar
Jim Hickman: Bass
Kevin O'Neil: Drums
Ricky Cool: Harmonica
Keith Evans: Saxophone

Produced by The Fabulous Brill Brothers, Nugetre, Robert Plant & Jimmy Page
Recorded at Atlantic Studios, NYC, March 1984

(P) © 1984 Es Paranza/Atlantic Recording Corp.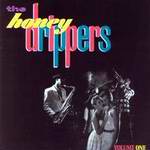 Lyrics