LED ZEPPELIN III
1970
01. Immigrant Song (2:25) (Page/Plant)
02. Friends (3:54) (Page/Plant)
03. Celebration Day (3:29) (Page/Plant/Jones)
04. Since I've Been Loving You (7:23) (Page/Plant/Jones)
05. Out On The Tiles (4:06) (Page/Plant/Bonham)
06. Gallows Pole (4:56) (trad., arr. by Page/Plant)
07. Tangerine (3:10) (Page)
08. That's The Way (5:37) (Page/Plant)
09. Bron-Y-Aur Stomp (4:16) (Page/Plant/Jones)
10. Hats Off To (Roy) Harper (3:42) (trad., arr. by Charles Obscure)

Total playing time: 43:01

Robert Plant
Jimmy Page
John Paul Jones
John Bonham

Recorded in 1970 at Headley Grange, Hampshire with The Rolling Stones Mobile Studio except tracks 4, 8 recorded in 1970 at Island Studios, London & tracks 5, 10 recorded in 1970 at Olympic Studios, London.

Engineered by Andy Johns

Mixed at Island Studios with Andy Johns except track 6 mixed at Electric Lady, NY with Eddie Kramer & track 7 mixed at Olympic Studios with Andy Johns

Produced by Jimmy Page
Executive producer: Peter Grant
Visual creations by Zacron

Credit must be given to 'Bron-y-Aur' a small cottage in South Snowdonia for painting a somewhat forgotten picture of true completeness which acted as an incentive to some of these musical statements. -August, 1970.

Originally released as Atlantic 7201 on 5/10/70

'Immigrant Song' was released as a single 11/5/70; #16 US pop

Digitally remastered from the original master tapes by Jimmy Page & George Marino at Sterling Sound.

(P) © 1970 Atlantic Recording Corp.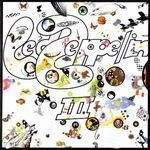 Lyrics