KING CRIMSON THREE OF A PERFECT PAIR
1984
01. Three Of A Perfect Pair (4:11)
02. Model Man (3:48)
03. Sleepless (5:21)
04. Man With An Open Heart (3:03)
05. Nuages (That Which Passes, Passes Like Clouds) (4:46)
06. Industry (7:05)
07. Dig Me (3:16)
08. No Warning (3:29)
09. Larks' Tongues In Aspic, Part III (6:06)

Total playing time: 41:15

Adrian Belew: Voice, Fretted & Fretless Guitars
Robert Fripp: Guitar
Tony Levin: Bass, Stick, Synth & Background Voice
Bill Bruford: Acoustic & Electric Drumming

Music by King Crimson
Words by Adrian Belew

Produced by King Crimson for E.G. Records
Engineer: Brad Davis
With Tony Arnold (Arny's Shack) on 'Industry' & 'Dig Me'
'Sleepless' mixed by Bob Clearmountain
Assistant engineers: Nick James, Ray Niznik & Peter Hefter
Social services: Tex Read

Cover symbol from a design by Peter Willis of the Trevail Mill Studio
Cover art by Timothy Eames
Management: Patrick Spinks for EG Management

(P) © 1984 EG Records Ltd.




Marketed by Virgin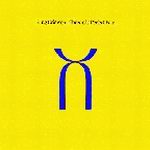 Lyrics