KING CRIMSON THE POWER TO BELIEVE
2003
01. The Power To Believe I: A Cappella (0:44)
02. Level Five (7:17)
03. Eyes Wide Open (4:08)
04. Elektrik (7:59)
05. Facts Of Life: Intro (1:38)
06. Facts Of Life (5:05)
07. The Power To Believe II (7:43)
08. Dangerous Curves (6:42)
09. Happy With What You Have To Be Happy With (3:17)
10. The Power To Believe III (4:09)
11. The Power To Believe IV: Coda (2:29)

Total playing time: 51:17

Hidden track:

Einstein's Relatives (3:10)

Music by King Crimson, words by Adrian Belew

Adrian Belew: Guitar & Vocals
Robert Fripp: Guitar
Trey Gunn: Warr Guitar, Fretless Warr Guitar
Pat Mastelotto: traps and buttons

Recorded by Machine, & produced by King Crimson & Machine, mainly in Nashville at The Tracking Room during July & August 2002

Cover artwork: from a painting by P.J.Crook

The Power To Believe is the culmination of three years of Crimsonising by Line-up Six that began at StudioBelew, Nashville, in October 1999 with the writing & recording of The ConstruKction Of Light, followed by extensive touring in Europe, Japan & the Americas throughout 2000 & 2001 (DGM)

(P) © 2003 Discipline Global Mobile under exclusive licence to Sanctuary Records Group Ltd.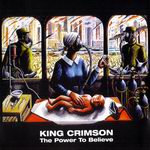 Lyrics