KING CRIMSON LIZARD
1970
01. Cirkus including Entry Of The Chameleons (6:28)
02. Indoor Games (5:41)
03. Happy Family (4:16)
04. Lady Of The Dancing Water (2:44)
05. Lizard (23:25)
a. Prince Rupert Awakes (4:36)
b. Bolero - The Peacock's Tale (6:39)
c. The Battle Of Glass Tears (10:58) including:
i. Dawn Song
ii. Last Skirmish
iii. Prince Rupert's Lament
d. Big Top (1:13)

Total playing time: 42:44

All tracks by Fripp/Sinfield except 'Bolero - The Peacock's Tale', 'Last Skirmish' & 'Big Top' by Fripp

Robert Fripp: Guitar, Mellotron, Electric Keyboards & Devices
Mel Collins: Flute & Saxes
Gordon Haskell: Bass Guitar & Vocals
Andy McCulloch: Drums
Peter Sinfield: Words & Pictures

with:
Robin Miller: Oboe & Cor Anglais
Mark Charig: Cornet
Nick Evans: Trombone
Keith Tippet: Piano & Electric Piano
Jon Anderson of Yes: Vocals on 'Prince Rupert Awakes'

Written & produced by Robert Fripp & Peter Sinfield for E.G. Records
Engineer: Robin Thompson
Tapes: Geoff Workman
Studio: Wessex Sound, London
Sleeve conception: Peter Sinfield
Outside painting: Gini Barris
Inside marbling: Koraz Wallpapers
Photography: C.C.S.

(P) © 1970 EG Records Ltd.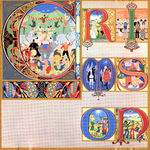 Lyrics