KING CRIMSON ISLANDS
1971
01. Formentera Lady (5:20)
02. Sailor's Tale (12:29)
03. The Letters (4:32)
04. Ladies Of The Road (5:32)
05. Prelude: Song Of The Gulls (4:15)
06. Islands (9:16)

Total playing time: 44:09

All tracks by Fripp, Sinfield except 2 & 4 by Fripp

Robert Fripp: Guitar, Mellotron, Peter's Pedal Harmonium & sundry implements
Mel Collins: Flute, Bass Flute, Saxes & Vocals
Boz: Bass Guitar, Lead Vocals & choreography
Ian Wallace: Drums, Percussion & Vocals
Peter Sinfield: Words, Sounds & Visions

with:
Keith Tippet: Piano
Paulina Lucas: Soprano
Robin Miller: Oboe
Mark Charig: Cornet
Harry Miller: String Bass

Produced by King Crimson for E.G. Records Ltd.
Engineer: Andy Hendrikson
Recorded at Command Studios, Picadilly, London
Photographs: Robert Ellis
Outer cover illisutration 'Trifid Nebula In Sagittarius' by courtesy of The Institute of Technology & Carnegie Institution of Washington

(P) © 1971 EG Records Ltd.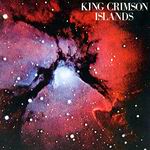 Lyrics