KING CRIMSON DISCIPLINE
1981
01. Elephant Talk (4:42)
02. Frame by Frame (5:09)
03. Matte Kudasai (3:48)
04. Indiscipline (4:33)
05. Thela Hun Ginjeet (6:26)
06. The Sheltering Sky (8:22)
07. Discipline (5:02)

Total playing time: 38:15

Adrian Belew: Guitar, Lead Vocal
Robert Fripp: Guitar & Devices
Tony Levin: Stick, Bass Guitar, Support Vocal
Bill Bruford: Batterie

Music by King Crimson, elephantosity by Belew

Produced by King Crimson & Rhett Davies
Recorded at Island Studios, Basing St., London
Engineer: Rhett Davies
Assistant engineer: Nigel Mills
Graphica: Peter Saville
Strategic management: Paddy Spinks
Re-mastered by Robert Fripp & Tony Arnold, 1989

Discipline is never an end in itself, only a means to an end

(P) © 1981 EG Records Ltd.




Marketed by Virgin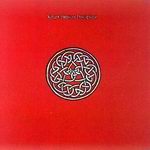 Lyrics