KING CRIMSON THE CONSTRUkCTION OF LIGHT
2000
01. ProzaKc Blues (5:29)
02-3. The ConstruKction Of Light (8:39)
04. Into The Frying Pan (6:54)
05. FraKctured (9:05)
06. The World's My Oyster Soup Kitchen Floor Wax Museum (6:24)
07-9. Larks' Tongues In Aspic - Part IV
10. Coda: I Have A Dream (13:03)

Bonus track:

ProjeKct X
11. Heaven And Earth (7:46)

Total playing time: 58:20

Adrian Belew: Guitar & Vocals
Robert Fripp: Guitar
Trey Gunn: Bass Touch Guitar, Baritone Guitar
Pat Mastelotto: Drumming

All titles written by Adrian Belew, Robert Fripp, Trey Gunn & Pat Mastelotto, words by Adrian Belew,
& published by BMG Music Publishing Ltd./ Poppy Due Music/ Robert Stevens Music.

Recorded by Ken Latchney at StudioBelew - pro Tools & add. recording by Bill Munyon
Add. recording at Ade's Garage, Pat's Garage & The Apartment.

Produced by King Crimson
Mixed by Ken Latchney & Bill Munyon at 17 Grand Studio
Mastered by Glenn Meadows at Masterfonics
Bonus track 'Heaven & Earth' is performed by ProjeKct X & produced by Pat Mastelotto & Bill Munyon
Art direction: Ioannis for Vivid Images Worldwide www.vividimagesdesign.com
Digital art: Ioannis thanks to Bob Grober
Design: Alan Chappell for Vivid Images Worldwide & Trey Gunn
Photography & video images: Trey Gunn

Thank you to Martha Belew, Bill Bruford, Richard Chadwick, Nick Chaires, Discipline Global Mobile, Stan Hertzman, Tony Levin, & Jake Nicely & to Alesis, Celestion, John & Don at Drum Workshop, Euphonic Audio, Fender, Herman & Meike, Johnson Amplification, Korg, Paiste, Roland, Shure Microphones, TC, Tama, Trace Elliot, Vic Firth.

Robert Fripp plays Fernandes & 48th Street Guitars
Trey Gunn's touch guitars are made exclusively by Mark Warr of Warr Guitars

King Crimson is managed worldwide by Opium (Arts) Ltd.
Adrian Belew is managed by Umbrella Artists Management

(P) &copy 2000 King Crimson exclusively licenced to Virgin Records Ltd.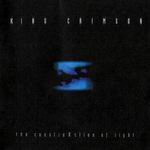 Lyrics