GONG YOU
1974
01. Thoughts For Naught (1:33)
02. A P.H.P.'s Advice (1:47)
03. Magick Mother Invocation (2:06)
04. Master Builder (6:06)
05. A Sprinkling Of Clouds (8:55)
06. Perfect Mystery (2:27)
07. The Isle Of Everywhere (10:20)
08. You Never Blow Yr Trip Forever (11:23)

Total playing time: 44:31

All titles written by Gong

Mike Howlett: Bass Guitar
Pierre Moerlen: Percussion with Miveille & Benoit
Steve Hillage: Lead Guitar
Bloomdido Glad de Brass: Wind Instruments & Vocals
Hi T Moonweed: Moog & EMS Synthesizers & Mellowdrone
Dingo Virgin: Vocal Locust & Glissandoz Guitar
Shakti Yoni: Poems & Space Whisper
Bambaloni Yoni: Wee Voices & Chourousings

Venux De Luxe: Switch Doctor & Stage Sound
Wizz De Kidd: Lighting
David ID: Road management

Produced by Simon Heyworth & Gong
Engineered by Simon Heyworth

Many thanks to Rob Ayling for his help with these CD reissues

(P) © 1974 Virgin Records Ltd.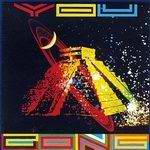 Lyrics