GENESIS WE CAN'T DANCE
1991
01. No Son Of Mine (6:30)
02. Jesus He Knows Me (4:11)
03. Driving The Last Spike (9:57)
04. I Can't Dance (3:50)
05. Never A Time (3:45)
06. Dreaming While You Sleep (7:08)
07. Tell Me Why (4:50)
08. Living Forever (5:34)
09. Hold On My Heart (4:31)
10. Way Of The World (5:32)
11. Since I Lost You (4:09)
12. Fading Lights (10:00)

Total playing time: 71:21

All tracks written by Banks/Collins/Rutherford

Tony Banks: Keyboards, Backing Vocals
Phil Collins: Drums, Percussion, Vocals
Mike Rutherford: Guitars, Bass, Backing Vocals

Produced by Genesis & Nick Davis
Engineered by Nick Davis
Assisted by Mark Robinson
Recorded at The Farm, Surrey, England, March - Sept 1991
Technical assistance: Geoff Callingham & Mike Bowen

Design & art direction by Icon
Photography by David Scheinmann
Illustrations by Felicity Roma Bowers

Many thanks to Steve Jones, Dale Newman Howie & Angela of course for feeding us
Also thanks to Tony Smith, Carole Willis, Vicky Andrews & all at Hit & Run Music Where would we be?....

(P) &copy 1991 Virgin Records Ltd.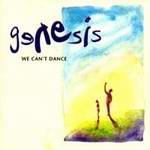 Lyrics