GENESIS TRESPASS
1970
01. Looking For Someone (7:06)
02. White Mountain (6:45)
03. Visions Of Angels (6:50)
04. Stagnation (8:50)
05. Dusk (4:13)
06. The Knife (8:55)

Total playing time: 42:42

All titles composed, arranged & performed by Genesis

Peter Gabriel: Lead Voice, Flute, Accordion, Tambourine & Bass Drum
Anthony Phillips: Acoustic 12-String, Lead Electric, Dulcimer, Voices
Anthony Banks: Organ, Piano, Mellotron, Guitar, Voices
Michael Rutherford: Acoustic 12-String, Electric Bass, Nylon, Cello, Voices
John Mayhew: Drums, Percussion, Voices

Produced by John Anthony
Engineer: Robin Cable
Recorded at Trident Studios, London
Artwork: Paul Whitehead for Cleen Mashine Studio

Thanks to Rich & Dave & all at Charisma

(P) © 1970 Charisma Records Ltd.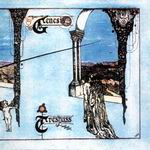 Lyrics