GENESIS SELLING ENGLAND BY THE POUND
1973
01. Dancing With The Moonlit Knight (8:03)
02. I Know What I Like (In Your Wardrobe) (4:09)
03. Firth Of Fifth (9:37)
04. More Fool Me (3:12)
05. The Battle Of Epping Forest (11:44)
06. After The Ordeal (4:15)
07. The Cinema Show (11:09)
08. Aisle Of Plenty (1:32)

Total playing time: 53:39

All titles composed, arranged & produced by Genesis

Peter Gabriel: Vocals, Flute, Oboe, Percussion
Phil Collins: Drums, Percussion, Vocal, Lead Vocal on "More Fool Me"
Michael Rutherford: 12 Strin Guitar, Bass, Electric Sitar
Stephen Hackett: Electric Guitar, Nylon Guitar
Tony Banks: Keyboards, 12 String Guitar

Produced by John Burns/ Genesis
Assistant engineer: Rhett Davies
Cover painting by Betty Swanwick, A.R.A.
Published by © Genesis Music Ltd/ Hit & Run Music (Publishing) Ltd
Remastered at The Farm & Abbey Road by Nick Davis, Geoff Callingham & Chris Blair

(P) © 1973 Charisma Records Ltd.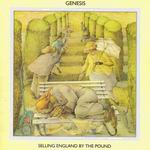 Lyrics