GENESIS NURSERY CRYME
1971
01. The Musical Box (10:29)
02. For Absent Friends (1:47)
03. The Return Of The Giant Hogweed (8:10)
04. Seven Stones (5:11)
05. Harold The Barrel (3:00)
06. Harlequin (2:56)
07. The Fountain Of Salmacis (7:53)

Total playing time: 39:29

All titles composed, arranged & performed by Genesis

Tony Banks: Organ, Mellotron, Electric Piano, 12 String Guitar, Voices
Michael Rutherford: Bass, Bass Pedals, 12 String Guitar, Voices
Peter Gabriel: Lead Voice, Flute, Bass Drum, Tambourine
Steve Hackett: Electric Guitar, 12 String Guitar
Phil Collins: Drums, Voices, Percussion

Produced by John Anthony
Engineered by David Hentschel
Tape jockey: Mike Stone
Recorded at Trident Studios, London
Sleeve design: Paul Whitehead, inspired by 'The Musical Box'

Remastered at The Farm & Abbey Road by Nick Davis, Geoff Callingham & Chris Blair

(P) © 1971 Charisma Records Ltd.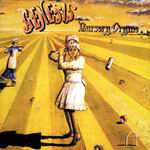 Lyrics