GENESIS
1983
01. Mama (6:48)
02. That's All (4:26)
03. Home By The Sea (5:07)
04. Second Home By The Sea (6:07)
05. Illegal Alien (5:15)
06. Taking It All Too Hard (3:58)
07. Just A Job To Do (4:47)
08. Silver Rainbow (4:29)
09. It's Gonna Get Better (5:00)

Total playing time: 46:00

All songs by Genesis

Tony Banks: Keyboards, Backing Vocals
Mike Rutherford: Guitars, Bass, Backing Vocals
Phil Collins: Drums, Percussion, Lead Vocals

Produced by Genesis (with Hugh Padgham)
Engineered by Hugh Padgham
Technical assistance: Geoff Callingham
Recorded & mixed at The Farm, Surrey, 1983

Without Whom Dept: Geoff Callingham, Geoff Banks, Steve Jones, Dale & Clair Newman, Tony Smith, Carole Willis, Andy Mackrill & all at Hit And Run Music

Cover: Bill Smith

(P) © 1983 Charisma Records Ltd.
Distributed by Virgin Records Ltd.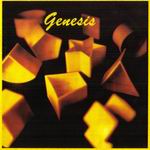 Lyrics