GENESIS FOXTROT
1972
01. Watcher Of The Skies (7:24)
02. Time Table (4:48)
03. Get 'em Out By Friday (8:38)
04. Can-Utility And The Coastliners (5:47)
05. Horizon's (1:43)
06. Supper's Ready (22:58):
i. Lover's Leap
ii. The Guaranteed Eternal Sanctuary Man
iii. Ikhnaton And Itsacon And Their Band Of Merry Men
iv. How Dare I Be So Beautiful? / v. Willow Farm
vi. Apocalypse In 9/8 (co-starring the Delicious Talents of Gabble Ratchet)
vii. As Sure As Eggs Is Eggs (Aching Men's Feet)

Total playing time: 51:18

All titles composed, arranged & performed by Genesis

Phil Collins: Drums, Voices, assorted Percussion
Peter Gabriel: Lead Voice, Flute, Bass Drum, Tambourine, Oboe
Michael Rutherford: Bass, Bass Pedals, 12 String Guitar, Voices, Cello
Tony Banks: Organ, Mellotron, Piano, Electric Piano, 12 String, Voices
Steve Hackett: Electric Guitar, 12 String & 6 String solo

with:
Richard MacPhail: Equipment & stage sound (sound friend)

Produced by David Hitchcock of Gruggy Woof/ Genesis
Recorded at Island Studios, London
Engineered by John Burns
Sleeve design: Paul Whitehead
Photographs: Barry Wentzell, Geoff Terrill, Martin Nunn, Amando Gallo

(P) © 1972 Charisma Records Ltd.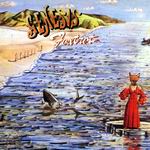 Lyrics